The Roaring Twenties were coming to their disastrous conclusion, a new school would rise in East San Diego honoring future president Herbert Hoover, who promised a chicken in every pot and a car in every garage, and San Diego High football was beginning a bumpy ride.
The 1927-28 school year had concluded John Aseltine's first year as principal in June and the  Stanford University graduate was looking forward to a leisurely summer.
But things got busy for Aseltine a few weeks later, after a seemingly innocent meeting at the City Schools' office by a visitor from Central California.
Charlie Church, coach at a junior high  in Fresno,  applied for a position in San Diego's  physical education department, possibly in basketball or gym classes.
Church, who had coached at Santa Monica and as recently as 1926 at Alhambra, among other stops, was told that no change in coaching personnel was anticipated at the high school.
"Keep my name in case anything comes up," said Church, perhaps smiling to himself.
Church was connected.
–The superintendent of the San Diego City Schools was Walter Hepner, who had hired Church years before when Hepner was boss in the Fresno school system.
AUGUST 28:  The San Diego Union reported that John Hobbs, head football coach at San Diego since 1927,  had suddenly resigned.
Hobbs, 27, apparently was making a career change, accepting a position with a newly-organized "building and loan operation" in Tucson, Arizona.
A star athlete at the University of Arizona in Tucson, Hobbs had been hired as basketball coach at San Diego after his graduation in 1923.
Hobbs succeeded John Perry as football coach when Perry took a leave from coaching following the 1926 season.
The departing Hobbs created a sour taste when it was learned that Hobbs had accepted his new position at least six weeks before the announcement came in the mail from Arizona.
LET'S HIRE TEX
SEPT. 2: The San Diego school board announced that it had accepted Hobbs' resignation "without regret."
Gerald (Tex) Oliver, head coach at Santa Ana High, was favored by members of the board.
Board member Claude Woolman declared that it had been a mistake to let Oliver go to Santa Ana, where Oliver was hired in 1927.
"He developed a team that won the state Class B football championship," said Woolman.  "In spite of this, Hobbs was made the football coach and Oliver left."
Jacob Weinberger, another board member, hinted that Hobbs had cozied up to the former San Diego principal, Glenn Perkins.
Oliver, who had been elevated from Memorial Junior High, actually coached the Hilltoppers' lightweights to the Southern California title in 1925.  There was no state championship for B's.
SEPT. 3: Football practice began with interim coach John Perry, now the head of the physical education department, and assistant coach Dewey (Mike) Morrow welcoming about 80 candidates.
MANY NAMES SURFACE
–Billy Gutteron, a former Hilltopper athlete and University of Nevada player, seemed to be the favorite to replace Hobbs if Oliver was unavailable.
Grossmont's Jack Mashin, Point Loma's Clarence Cartwright, Monrovia coach and ex-Hilltopper Hobbs Adams, and Walter Davis, late of the University of Arizona, also were mentioned, along with Roy Richert, coach at an Oakland high school, and Bernard Nichols of Oceanside.
Gutteron and Adams attended the first day of practice.  Adams claimed he was there hoping to schedule a game with the Hilltoppers in the last week of September or first week in October.
LOUSY PAY?
SEPT 4: Oliver's name was withdrawn.
A story that did not cite sources said Oliver "has no intention of returning to the Hilltop."
"Oliver coached here two years ago and left because of the low salary paid to coaches in San Diego, reported to be the lowest of any section in the state," the story continued.
Oliver could make only $2,100 at San Diego because he had not taught for at least 10 years in the local school system.  San Diego coaches with 10 years usually were paid $2,400 per school year, although there was a ceiling of $2,600.
SAME CHURCH, DIFFERENT PEW
SEPT. 8:  Charlie Church was announced as the new head coach by principal John Aseltine.
Aseltine went public following a conference with superintendent Hepner and W.A. (Bud) Kearns, supervisor of physical education for the City Schools.
"We have talked to Church and studied his record carefully," said Aseltine, following the lead of  Hepner. "He is a top-notch coach and we think we have made a real find."
Church "realizes he faces a big task in building up a strong team at this late stage," Aseltine said.  "He said he is ready to pitch in and do his utmost to put the team in the running for the Coast League championship."
SEPT. 10: Church arrived on campus but did not take part in actual coaching until Sept. 14.
SHORT RETIREMENT
John Hobbs was not long for a three-piece suit.
Sept. 24: An announcement from the desert was that Hobbs was joining J.P. McKale's University of Arizona staff as backfield coach.
Hobbs eventually returned to San Diego and worked several years as a game official.  He passed away at age 61 in 1962 and is buried at Fort Rosecrans.
SHORT TENURE
SEPT. 29: Church coached  a 6-2 victory over St. Augustine  and stunningly resigned after the game.  Church urged Aseltine to name Mike Morrow as his replacement.
The departing coach explained  that Morrow was better suited for the job because Morrow was versed in the system used by Perry and Hobbs and that the players, also familiar, could adapt more quickly.
Those close to the program felt that Church took the football job only to ensure a position at the school.
SEPT. 30:  Aseltine, getting used to praising a man he hardly knows and who likely was not Aseltine's choice, was forced to make another public statement.
"We feel that Church would enjoy a successful season at the helm of the Hilltop gridiron crew but he believes his lack of knowledge of the material…would retard the squad's progress," the principal said.
Aseltine pointed out that Church's "first love" was basketball.
The native of Lowell, Massachusetts,  became the Hilltoppers' basketball coach for the next three seasons (and handled junior varsity football), then gave way to Morrow, who coached the 1935-36 team to the school's only Southern California championship.
Church remained on staff in charge of intramural sports but eventually moved to Long Beach Poly and won championships in basketball.
SPY IN THE HOUSE?
It was S.O.P. for the Coast League.
Class B players were to be weighed, measured, and required to show birth certificates for the establishment of exponents.
The procedure took place at each league entity and was  conducted by a member of an opposing school.  Walter Bell, head of physical education at Long Beach Poly, did the honors at San Diego.
One of the rules was that a player attempting to play Class B for a second season could not weigh less than in the previous year.
Bell didn't know it, but he was in the company of several future prominent San Diegans.
B squad members included Irvine (Cotton) Warburton, who'd go on to an all-America career at USC, enter the film industry, and earn an Academy award for cinematography in 1964 for the movie Mary Poppins.
Lineman Christy Gregovich was known a generation later as sports columnist Christy Gregg for The San Diego Union.
Raconteur Bob MacDonald owned the renowned Palace Buffet downtown and was a prominent sports figure.
Art Jacobs built his business, San Diego Periodicals, into a leading distributor of magazines and printed material.
WHERE'S THE BEEF?
Point Loma listed seven linemen whose weight ranged from 125 pounds to 272.
Tackle Jim Derrick actually weighed 292 when fully dressed out.
The Pointers said  the 16-year-old, 6 foot, 1-1/2-inch  Derrick may have been  the heaviest football player in the country, although documentation was not forthcoming.
Point Loma also boasted a 115-pound receiver, Lorne Shirtin.
THE THIRD TEAM
Members of San Diego' Junior B squad were promised ice cream by coach Fred Klicka if they scored 20 points against Mountain Empire.  Klicka's youngsters defeated the Mountain Empire varsity, 20-0.
The Juniors served as a development eleven for the B team, as several players taxied back and forth.
B TEAM GETS A
Forfeit victories over Pasadena and Long Beach Poly, teams to which it had been outscored, gave coach Glenn Broderick's B squad a perfect, 7-0 record.
Since 1924, when B competition was inaugurated, the Hilltoppers were 27-4-1, including 7-1 versus Southern California teams.  Most of the games were  against local varsities and reserves.
The Bees were scheduled to play Santa Monica for the Southern California championship but the influenza strike of early November canceled that option.
MORE FORFEITS
San Diego's varsity forfeited its final game (see below) but was the recipient of a forfeit victory although on the short end of a 13-6 score against Pasadena.
CIF officials made the Bulldogs forfeit when it was discovered that 5 varsity and B players belonged to outlawed school fraternities.  The anti-fraternity rule was statewide.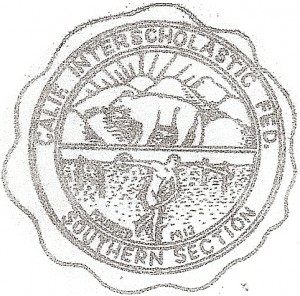 Forfeitures also struck Santa Ana. The Saints were penalized after their 18-0 win over Glendale and following an 0-0 tie with Long Beach Poly.
Santa Ana had been using a player who had transferred from Bakersfield but lived with his father in Whittier, about 25 miles and at least an hour and a half away.
Tex Oliver appealed the forfeits and the Saints won one appeal, rescinding the forfeit to Glendale.
San Diego was on the receiving end of a unique ruling at the start of practice.  Lineman Tom Salisbury was declared ineligible because Salisbury had attended  a business college in Los Angeles over the summer.
The CIF ruled that the "college" was not accredited.
FLU STRIKES AGAIN
Compared to  the world pandemic of 1918, a flu epidemic this year was not nearly as deadly but still hit with force.  About 50,000 Americans were said to perish from the virus and it struck teams in Southern California.
San Diego forfeited its final game to Santa Ana when coach Mike Morrow reported that 16 players were confined at home.
Santa Ana coach Tex Oliver said the Saints would postpone the game for a week, or until the Hilltoppers were fit, but San Diego officials declined.
They'd had enough.
SIGNS OF THE TIME
The police "dry squad" raided a house at 3736 Tennyson Street in Loma Portal, where it arrested nine men and five women, and seized 500 quarts of beer and bottles of gin and whisky.
When police arrived, those arrested were seated around a large living room, enjoying their libations.  A search of the house, near Chatsworth Blvd. and blocks from Point Loma High, also revealed a large quantity of grape wine being made.
Because of the large number of persons arrested, it was necessary for the police patrol wagon to make two trips to the jail.
Also popped was a taxi-cab driver for providing information on where intoxicants could be purchased.
All were released on bail.
UP IN THE AIR
Edward Schlee and William Brock set an American flight endurance record of 59 hours, 30 minutes, 1 second, after takeoff from Rockwell Field, which eventually became North Island Naval Air Station.
The flight followed a route that repeatedly covered the area up and down the Coronado Silver Strand.
The pair extended their travel during daytime, flying as far as Jacumba, 65 miles east.   Several planes would accompany the Bellanca monoplane. Pilots of those craft notified Schlee and Brock of news bulletins announcing their progress.
The aviators realized during the trip that their attempt at the world record was in jeopardy. They had discovered a leaky fuel valve.
On the final day a note was dropped to the ground crew.
"If we have not landed by dark turn the lights on, as the gas is running low," was the message.
Schlee and Brock were seven hours short of the global mark.
SHORTER POSTSEASON
The postseason was being shortened.   A "Tri-League Champion"  would come from the Southern, or Imperial or Orange County circuits.
Coronado, the Southern League champion, was eliminated in the first round by Calexico, 7-0.
Long seasons in which some teams played and practiced well into December were a continual headache for the CIF, according to president Harry Moore of Long Beach Poly.
Many solutions were tried until a consistent format was adopted in the years following World War II.
BEAUTIFUL HOME
For basketball.
San Diego architect Frank Allen's plans were approved for a new gymnasium on the North edge of campus.  The facility would have room for about 800 persons on expansive bleacher seating.
Two regulation courts, the first in the city,  were to be side by side, allowing room for additional seating that would bring capacity to 2,000.  The gym would be ready for the 1930-31 season.
BELIEVE IT OR NOT
The game story for the 6-6 tie between Escondido and Grossmont declared that Escondido completed 24 of 25 attempted passes.
INVENTIVE VIKINGS
Following an example coach George Dotson said was introduced by Stanford University and the U.S. Military Academy, La Jolla replaced the traditional water boy with a rolling water tank, capable of holding more H2-o and able to dispense at a faster pace.
The machine was made by students in one of the school's industrial arts classes.
The water boy still was needed to hustle the tank onto the field when players were injured or play was stopped.
QUICK KICKS
The San Diego County Football Officials' Association was founded on Sept. 23 in a meeting of coaches and officials at San Diego State…Army-Navy's 25-0 win over Los Angeles Loyola represented the Cubs' first loss in two seasons…they were 9-0 in 1927…Grossmont players wore black armbands in honor of school trustee A.B. Foster, who passed the week of a game with Point Loma…San Diego was  the largest school in the area, and one of  the largest in the state, with 3,022 students in three grades…second largest in the County was Roosevelt Junior High with 1,550…Coronado was passing on the last play against Sweetwater…Frank Green's pass to Eric Afferson was in the air as the gun sounded…Afferson scored on the 30-yard play and the Islanders won, 32-7…Green missed an earlier game because he had cut his hand on a band saw…Sweetwater band director Jimmy Seebold took his group downtown and it serenaded the offices of The San Diego Union and Evening Tribune…Bill Schutte, San Diego's 172-pound lineman, was named to the all-Coast League squad and went on to a long football career, eventually serving as San Diego State's head coach from 1948-55…Schutte's younger brother George was on the 1941 and '42 Hilltoppers teams and later was head coach at San Diego Junior College…Coronado represented football heaven…coach Amos Schaffer's team had recently dedicated a new, turf field, which observers said would do credit to a college, and a field house with lockers  were under construction…a big one who got away was Santa Ana's Alvin Reboin, one of the top runners in Southern California and a former Roosevelt  star…senior class president at Escondido was William (Bill) Bailey, destined to coach outstanding teams at San Diego…"The most discouraging prospects in my six years at Grossmont," said Jack Mashin, whose 1927 team was 8-0-3 and won the Southern California minor division crown but fell to 2-5-1 this season…
Copyright secured by Digiprove © 2015-2016