The headline below  screamed at the top of the lead sports page in The San Diego Union on Nov. 13, 1945.

The Scholastic Statistical Bureau  of New York, "which every week rates the performances of thousands of high school grid aggregations throughout the country," according to Bob Lantz of The Union, selected coach Bill Bailey's team as No. 1 in the country.
Lantz, a 1940 graduate of the Hilltop, had dutifully been sending Dick Dunkel of the statistical publication information on San Diego's high scoring successes of the last two seasons.  It was welcomed cachet for the Baileymen.
Lantz wrote:  "Dunkel, who for the past several years has endeavored to rate high school teams in the same way other systems rank collegiate elevens, tabulates scores on high school games played all over the country from week to week and from those compiles a rating sheet."
With a 6-0 record and 305 points for and only 12 against, the Cavers were prime candidates.
Word of the San Diego ascendency had traveled slowly across the time zones.  An eastern newspaper mentioned earlier that San Diego was number one through games of Oct. 27.
HEY, WESTERN UNION MAN!  
A telegram from Dunkel to Lantz on Nov. 12 confirmed that the Cavers had been on top for the previous two weeks.
San Diego stayed there a fourth week after a 61-13 victory over La Jolla.  The Hillers had clinched the last Victory League championship and were gearing up for the revived Southern California playoffs.
Seeking stronger opponents for his team as the CIF loosened rules on travel and number of games, Bailey scheduled a late-season, nonleague contest at Pasadena, which had a 6-1 record and had just beaten Glendale 22-6 for the Pacific League championship.
Bailey and other local coaches were free to seek additional competition after the CIF allowed schools to schedule one or more games, as long as the regular-season schedule ended by Dec. 1.
The Dec. 1 rule, long in effect, was in place to allow a scheduling of postseason playoffs.
Before hooking up with Pasadena, Bailey unsuccessfully  sought game(s) with several schools, including Glendale Hoover, East Bakersfield, L.A. Loyola, L.A. Cathedral, South Pasadena, and Redondo Beach Redondo.
CAVERS STRUGGLE
Pasadena never got past San Diego's 35-yard line.  The Cavers had 14 first downs to five and had been inside Pasadena's 20-yard line on five drives.
For all that domination, the Cavers had to recover a Pasadena fumble at the host's 18-yard line, needed five plays to score, and did not pull out a 6-0 victory until the final three minutes before about 10,500 at the  Rose Bowl.
The Hillers' mystique had been diminished.
IT'S NOT THE VICTORY LEAGUE
At 8-0 San Diego's  chances were considered about  even in the first round (quarterfinals) of the playoffs against  the Bay League's 7-1 Long Beach Wilson, which had beaten Long Beach Poly, 24-7 (the last team to defeat San Diego, in 1944) and Redondo Beach Redondo, which had won 22 consecutive games.
San Diego's "Touchdown Twins", Harry West and Cosimo Cutri, were matched against the Bruins' flock of playmakers, led by 205-pound fullback Harry (The Horse) Minor, speedsters Vance Randolph, Morley Bockman, Ray McCoy, Lyle Brown, and quarterback John Crutchfield.
Thirteen-thousand were on hand in Balboa Stadium.  San Diego, fighting from behind, tied the score at 13 in the third quarter but Wilson's power and balance overcame the Cavers with two touchdowns in the fourth fourth quarter for a 27-13 victory, which snapped the Hillers' 13-game winning streak.
Wilson was eliminated in the semifinals by Santa Ana, which defeated Alhambra 33-21 for the championship.
WELCOME BACK, WALKER
Lt. Cmdr. Pete Walker, released from the Navy on Sept. 19, returned on Sept. 21 as head football coach at Hoover.  Raleigh Holt had coached the Cardinals in 1943 and '44 and had been in charge of the Cardinals' preseason practices.
Hoover principal Floyd Johnson said Walker would meet with school superintendent Will Crawford and that it had been Crawford's policy to return servicemen to their pre-war positions. Walker was head coach from 1940-41.
John Perry was scheduled to return to Hoover as line coach but his discharge from the Navy had been delayed.  Holt remained on the staff as Walker's assistant.
I SAY FINNIN, YOU SAY FINNAN
Tom Finnin was a fullback  at St. Augustine.  He attended the University of Detroit Mercy and was a lineman in the NFL from 1953-57 for the Baltimore Colts, Chicago Cardinals, and Green Bay Packers.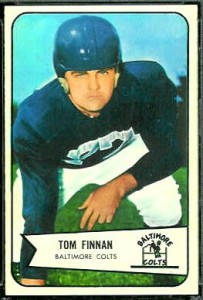 Finnin is a footnote in football history, but his 1954 Bowman bubble gum trading card resonates with card collectors.
Bowman originally printed a card that identified the player as "Tom Finnan".  When the spelling error was discovered, Bowman pulled "Finnan" from production and reprinted Finnin's card with the correct spelling on the back of the card.
His name was on front and back of the card.
Finnin still was "Finnan" on the front.
The believed scarcer "Finnan"  on both sides became a favorite of those who collect "master sets", which are sets that are complete with error cards and variations.
Apparently no card was printed correctly, with "Finnin" on both sides of the card.
"Finnin" on back of card  in nice condition sells for about $20  on the card circuit, but "Finnan" on both sides of the card, depending on condition, could sell from $75 to $200.
Finnin, drafted in the 24th round in 1950 by the New York Giants, was born in Chicago and returned there after college and having served in the Army military police in the Korean War.
A Chicago police officer following his five seasons in the NFL, Finnin retired after 33 years as a sergeant of detectives in the violent crimes unit.
GREAT WHILE IT LASTED
Bob Tomlinson ran 68 yards on the first play of the game at Balboa Stadium to give Sweetwater a 6-0 lead on San Diego.  Final score, San Diego 79, Sweetwater 6.
Harry West, Cosimo Cutri's touchdown twin, ran 7, 47, and 32 yards in the first half and added a 60-yarder before Bill Bailey pulled his regulars after the first series of the second half, San Diego leading 45-6.
Glen Collins, a 15-year-old sophomore lineman for Sweetwater, was taken to nearby Quintard Hospital with a broken leg.  Collins recovered and became a member of the local photographers' community, shooting Chargers games for 30 years and still was active in his late 'seventies.
FALSE INJURY INFO?
St. Augustine coach Fr. William McDermott declared end Joe Galindo out of the season opener with Coronado because of a fractured rib sustained in a scrimmage on Tuesday.
As The San Diego Union reported on Saturday, "Joe Galindo, supposedly injured wingman," scored the Saints' only touchdown in the 7-6 loss on a 15-yard end-around play.
VICTORY'S 8 ALL IN
The seventh annual carnival was unique in that, for the first time, eight teams each played one, 15-minute quarter.  All Victory League squads participated, including Kearny, making its debut.
Football in this postwar event showcased various offenses.  San Diego, Coronado, and Grossmont used the T formation.  Hoover, Sweetwater, and Kearny favored the single wing.  Point Loma operated behind the double wing, and La Jolla the so-called "hocus-pocus" spread formation.
A record throng of 24,000, largest to see a football game in the city's history, saw San Diego score three, fourth-quarter touchdowns to pull out a 25-14 victory for the West, which included La Jolla, Kearny, and Sweetwater.
Cosimo Cutri, the Cavers' 150-pound scatback, ran 70 yards for one touchdown and set up another with a 79-yard run.  John Brown went 48 yards with a pass interception to give the Cavers an 18-0 edge on Hoover.
Cutri also punished the Cardinals, scoring on runs of 4 and 20 yards, and on a 25-yard pass play with quarterback Joe Adamo in a 38-6 victory later in the season.
WITHER VICTORY LEAGUE?
The wartime circuit, hastily put together by school officials in 1943, would be disbanded.  San Diego and Hoover were returning to the Coast League. The Metropolitan League would be revived in 1946.
San Diego wanted stronger competition.  Hoover supported its entire athletic program by finding opponents who would play night football and never was happy with the wartime alignment.
HOOVER'S FUTURE PROS
Coach Pete Walker's Cardinals were 38-6 losers to San Diego, but two Hoover players went on to long careers in pro football.  Sophomore starting end Bill became a Stanford University all-America and played eight seasons for the Chicago Bears of the NFL.
McColl was a third-round pick of the Bears and the 32nd player in the 1952 NFL draft.
Junior starting tackle Volney Peters was a standout at USC and played seven seasons in the NFL and was drafted in the 13th round by the Chicago Cardinals in 1951.
Peters played nine seasons in the pros for four teams, including the 1960 Los Angeles Chargers, and earned an NFL Pro Bowl invitation after the 1956 season.
FOOTHILLER'S FOOT
Grosssmont's Duane Close sailed a kickoff 70 yards, through the Point Loma goalpost uprights.  Veteran observers said it was an area high school record.
Another Close kickoff landed in the Pointers' end zone.  Apparently stunned by the length of the boot, Pointers return men appeared undecided.  Grossmont's Jimmy Salas fell on the ball for a touchdown.  The Foothillers won, 19-0.
Close kicked off with regulation shoes, but was barefoot kicking extra points.
SIGNS OF THE TIMES
Free lip-reading classes were being offered for hard-of-hearing adults and students at Hoover and San Diego.
ROLANDO DISTRICT CRASH
Neighbors were frightened when a Navy fighter plane went out of control crashed and struck a power line on 67th Street near El Cajon Boulevard, then plowed through a garage and part of a house on 68th Street, and plunged into a canyon, killing the pilot.
QUICK KICKS
Grossmont coach Jack Mashin was referee for the San Diego Hoover game…Mashin had worked every Hoover-San Diego clash since 1935…San Diego end Charlie Coffee was on the all-Southern California first team…Coffey's teammate, Joe Adamo, the Cavers' T formation quarterback, was on the third team…Touchdown Twins Harry West and Cosimo Cutri did not make any of the first three teams… guard Bill Stapp of Coronado also made the third team…Kearny coach  Algy Lambert could only shrug over the loss of five starters who were members of "war families" that were returning to their home towns…St. Augustine announced plans to build a football stadium and basketball auditorium on campus…the tiny basketball facility, not completed until 1952,  is still standing at 32nd and Nutmeg streets but the football stadium plan was shelved…St. Augustine found a halfback, although he was easily lost in the crowd…5-foot, 5-inch, 115-pound Kenny DeLao earned a starting bid in the second game against  St. Agnes after running well in the opener at Coronado…the Saints-Coronado contest was the first peacetime game since 1941 and attracted 9,000 fans to Balboa Stadium as Coronado won 7-6…280-pound Adolf (Choppo) Romero kicked extra points for St. Augustine…200 coaches from the CIF Los Angeles City section refused to participate unless they received overtime pay for working after school hours…the coaches, who had been trying to receive at least two hours overtime since 1931, voted to return to their normal teaching day but  apparently were to be compensated and went back to their teams three days later…five-foot, three-inch, 140-pound running guard Bob Bower "is the toughest man in our line," said La Jolla coach Larry Hanson, who had a pair of 270-pound tackles in reserve…San Diego's Cosimo Cutri, one half of the "Touchdown Twins", had three runs of 65 yards each for touchdowns in a 40-0 victory over Santa Monica…Sweetwater's Gordon Cox and Hoover's Raleigh Holt were the area's only pipe-smoking coaches and Bill Bailey wore a brown fedora at every game…Holt was a former newspaper reporter…reliable blank cartridge pistols were wanted…more than once timekeepers vaulted onto the playing field, arms akimbo, to signal the end of playing time because the gun failed to function……San Diego's 38-6 win was witnessed by an estimated 20,000 persons in Balboa Stadium…St. Augustine declined an invitation to play in the Copper Bowl in Douglas, Arizona…the game, scheduled Dec. 29, would have pitted the Saints against St. Mary's of Phoenix, or a school from El Paso, Texas….
Copyright secured by Digiprove © 2012-2017