A stunning, 20-12 victory over archrival San Diego High brought back a flood of memories to Hoover coach Roy Engle.
–That hazy afternoon in Balboa Stadium in 1935 when Engle drove the Cardinals to a fourth-quarter, 7-6 victory over San Diego.
–Engle, the senior ball carrier, gaining the final 25 yards in three carries in the 80-yard drive to the game-tying touchdown.
–The first victory and first points ever scored by Hoover against the big, downtown school.
Engle and his teammates shared a glorious moment in the young school's history, but Hoover victories in the city rivalry became few and far between.
ONE-SIDED RIVALRY
San Diego held an 18-5 advantage in the series, had not lost to Hoover since 1949, and was a decided favorite in this renewal, played on the Hoover gridiron for the first time.
But the  Cardinals were confident and determined.
The squad met at the home of fullback Denny Berg the night before the game and vowed to reverse years of disappointment.
TARDY COACH
Engle was late getting to the Cardinals gym. He had gotten caught in  El Cajon Blvd., traffic after leaving his college area residence.
The coach couldn't help but look twice when he entered the football locker room.
"Every player was dressed and taped," Engle recalled to Jerry Magee of The San Diego Union.
No stragglers. And kickoff still was more than an hour away.
"It's dangerous to see a team so high, so early," Engle said.  "I tried to think of a joke."
The game began with the joke on the Cardinals.
ANOTHER BLOWOUT?
San Diego scored twice in the first 9:03 of the game on plays that began with Hoover in possession.
Bobby Staten picked up an errant Hoover pitchout and raced 20 yards for a touchdown two minutes after kickoff.
Ollie Osborne recovered a blocked punt in the end zone.  San Diego suddenly was ahead, 12-0, and seemingly off to the races.
But the Cavemen's No. 1 threat, halfback Cleveland Jones, sustained a hamstring pull in the first period, returned briefly, but left for good with 19 yards in 4 carries.
Hoover, running its Split-T offense and quarterback options to perfection, began to peck away.
The Cardinals pulled in front, 13-12, near the end of the half on Bailey's 9-yard run and 17-yard pass to Bob Williams.
Without Jones, the Cavers had only 59 yards total offense.  Berg's 3-yard run in the fourth quarter clinched the victory, the first by a local team over the Cavers since 1952.
"We had about 2,800, including players and fans, who were all pulling together," said Engle. "I've never seen a group of players put out like our guys did."
Engle was moved to say the game offered a reason as to why "men go into coaching."
DIFFERENT 3-0's
The 2,800 represented the size of the Hoover student body, one of the largest in Southern California.
Virtually all, along with a crowd that reached more than 7,000 persons, jammed the Hoover Stadium, spectators filling both sides of the field and temporary bleachers in each end zone.
Hoover and San Diego each entered the game with a 3-0 record, but San Diego had beaten Long Beach Wilson, 21-7, Point Loma, 40-0, and Arizona power Phoenix Union, 33-6.
The Cardinals had one impressive win, 14-6, at Redlands and victories of 9-6 over Grossmont and 27-12 over Mission Bay.
"Hoover played much better than it had before," said San Diego coach Duane Maley.   "When a team can have 12 points scored against them as quickly as we scored and can come back, they deserve a lot of credit."
 THEY SAID IT
"We figure to be real green, but we'll come along.  We've got speed."—San Diego coach Duane Maley.
(The Cavers, after having 28 players graduate and starters Luther Hayes and David Grayson transferring to Lincoln, leaving only one offensive starter, center Ron Collins, finished 7-2).
"If George gets hurt, we unpack our tent, put it on the camel and head for the hills"–La Jolla coach Shan Deniston on the prospect of losing halfback George Graham.
(Graham was the second leading scorer in the city with 12 touchdowns, including 6 in the final game).
 "Things have looked bleaker.  We just don't remember when.  I hope we can beat someone"–St. Augustine coach Tom Carter.
(The Saints won some, lost some, and tied some, for a 2-4-2 record).
"This could be the closest race we've ever had.  Anyone of five teams could finish from first to fifth"—Point Loma coach Bennie Edens.
(Point Loma was a well-beaten, tied-for-fourth with Mission Bay with a 1-3 league record and 2-6 overall).
"We're the youngest, most inexperienced, and the losingest, but we think we'll have a chance in every game we play.  We're in the league and we're not afraid of anybody."—Mission Bay coach Harry Anderson.
(The Buccaneers beat Point Loma to finish fourth in the City League and were 2-6 overall).
"The whole league will be better balanced, because most teams will be improved, and I don't think San Diego High will be so strong"—Hoover coach Roy Engle.
(The haves, Hoover and San Diego, still held sway over the have nots).
MAN THE PUMPS
Seven Mission Bay area gasoline stations formed an alliance with the school booster club.
Two cents of every gallon of gas poured on a weekend during football season went to the school fund, benefitting the Reserve Officers Training Corps, school choir, and athletic department.
DAY-NIGHT DOUBLEHEADER
After La Jolla played Mar Vista at Scripps Field in the afternoon, Mission Bay took on El Centro Central later in the evening at the same site.
El Centro defeated the Buccaneers, 20-13, and made another trip to La Jolla later in the season, winning, 25-14.
OH, SUSANNAH!
Susannah Lee, a 16-year-old Ramona High senior, was the only female high school correspondent for The San Diego Union.
Susannah explained  the secret of understanding football to writer Jerry Magee: Study the plays, watch the ball, and take a boy friend along who can explain the game.
"Get a boyfriend who knows football and can sit with you and tell you what they're doing," she said.  "I've used that system a few games."
Susannah also is the Ramona High school newspaper social reporter: "In society you have to go and see what people are doing, who is going with whom, etc.  The students don't turn in the news."
Covering football, Susannah contended, is "easy."
Miss Lee, who lived on a chicken ranch near Ramona, did not aspire to a career in sports writing and planned to attend Woodbury College in Los Angeles and take a secretarial course.
ELEVATOR, WE GOT THE SHAFT
Gary Dunn, passing, and Ron Palermo, catching, teamed on a 46-yard scoring play for the only touchdown in Helix' 6-0 victory over Chula Vista.
Problem.
Three plays earlier the Spartans were shocked when the head linesman, in charge of downs and markers, signaled a change of possession, ball to Helix.
The switch occurred after Chula Vista's Jerry Glad was thrown for a 12-yard loss on third down.
Chula Vista was robbed of a fourth down play, although it needed 14 yards for a first down.
Further frustration for Bob Geyer's South Bay squad: it recovered five Helix fumbles and blocked a punt.
THE SEQUEL
Helix didn't fool around in the Metropolitan League rematch (some teams played each other twice in a round-robin schedule that featured Helix and El Cajon playing seven league games and Grossmont, El Cajon, and Sweetwater playing six). The Highlanders won, 52-6, with their third 50-point outburst of the regular season.
The Scots  also defeated Blythe Palo Verde, 54-0, and rushed for an astounding 407 yards in another 52-6 victory over Grossmont, with scoring plays of 24,8, 85 (Palermo), 32 , 28 (Dunn), 48 (Danny Spinazzola), and 78 (Bill Ernest).
CITY RULES
Helix had 21 touchdown plays of at least 20 yards, 11 of at least 40, averaged 34 points a game in an 8-0 regular season, and was a rare County favorite over Hoover in a first-round playoff that drew about 11,000 to Aztec Bowl.
But as San Diego and Lincoln learned, you can't score if you don't have the ball.
With Gary Bailey marshaling the Cardinals' grinding, split-T attack and showing more flair as an option quarterback, the Cardinals ran 60 plays to the Highlanders' 31 and built a fourth-quarter lead of 21-7.
Hoover's 21-13 victory sent the Cardinals to La Palma Stadium in Anaheim and the Redbirds' ball control worked again, for awhile.
The Cardinals scored first, ran more plays, and led Anaheim at the half, 7-6, but the Colonists with Mickey Flynn leading the way, ran away to a 34-7, quarterfinals playoff victory.
Hoover did not compare offensively to Anaheim.
The Cardinals' Bobby Ball had rushed for 437 yards in 93 carries for a 4.6-yard average and Denny Berg averaged 4.1 and gained 393 on 84 carries.
Anaheim's Joe Avitia had 874 yards and a 5.7 average and Mickey Flynn, used sparingly, had scored 17 touchdowns and was averaging 10 yards a carry.
Hoover had scored 170 points in nine games, Anaheim 347 in 10.
WHAT'S THE TIME?
With 5:50 to play in the first quarter of a 21-0 win over Sweetwater, Helix' Ron Palermo ran 6 yards to a touchdown.
With 5:50 remaining in the second quarter, Helix quarterback Bob Schultz passed 45 yards to Bill Earnest for a touchdown.
SAINTS COME MARCHING IN
St. Augustine's long battle to find a home in one of San Diego County's prep leagues was coming to an end.
They would have a league in the 1957-58 school year but not before clearing a few more hurdles.
Southern Section bosses in September approved the Saints for membership in the Metropolitan League beginning in '57-58.
The Saints and La Jolla had applied for Metro membership in 1955, after La Jolla and Kearny announced they would bail in football for two years from the City League.
Metro big shots rejected the Saints and Vikings and had opted for this year's unbalanced, 5-team loop in which some squads would play league rivals twice, with the champion being decided on won-loss percentage.
City Prep League principals, who annually blocked St. Augustine's bid for membership, made a U-Turn and extended an invitation for 1957-58.
Principals of the 21  County schools attended a meeting in November at the Civic Center, where the Saints' invitation was the only decision resolved during a four-hour session on releaguing.
City Prep League coaches disagreed with their releaguing bosses and voted against the Saints, pointing out that La Jolla and Kearny, whose games did not count this year, would be joining the circuit with Crawford in '57, making for nine members, an unwieldy number.
The Southern Section releaguing committee, virtually rubber stamped the vote by the San Diego principals, voting unanimously to place St. Augustine in the City Prep League and removing the Saints from Metro League consideration.
The Saints still would need the approval of the Southern Section's executive council, but commissioner Ken Fagans said the releaguing group's vote was "tantamount to approval."
Fagans noted that Crawford would not be playing a varsity schedule in football in 1957 and that "releaguing is on a year-to-year basis. If further changes are needed later on, we'll make them."
The Saints officially were placed in the City League by the Southern Section executive committee at its final meeting in December.
DIVIDED LOYALTY?
San Diego vice principal Bill Bailey, who coached the Cavemen to a 34-7 record from 1943-47, had a dilemma.
Bailey's son, Gary, was Hoover's quarterback.
Bailey and his wife deferred questions about who they were supporting, but it's suspected they wanted Gary to have a terrific game and that maybe the teams could tie.
Mrs. Bailey would not commit to which side from which she would watch and Bill said only that he wished for a spot on the 50-yard line, "right in the middle of the field."
SIGNS OF THE TIME
Mount Miguel in Spring Valley was scheduled to open in 1957, as was Crawford in East San Diego.  El Capitan would open in Lakeside and Hilltop in Chula Vista in 1959.
The City Schools also announced plans for a second new high school when a 44-acre plot was purchased for $92,000 in Clairemont.
By 1959, Clairemont would greet students at its campus one block west of Clairemont Blvd., on Ute Street.  The school mascot appropriately would be named Chieftains.
SHAN'S WORLD
Shan Deniston, who took over as La Jolla coach after seven seasons as an assistant coach at Drake University in Des Moines, Iowa, had been a catcher for the Portland Beavers in the Pacific Coast League.
An arm injury ended the St. Louis Browns farmhand's career, but Deniston managed Browns farm teams at Mayfield, Kentucky; Belleville, Illinois; Pittsburg, Kansas, and Olean, New York.
ALL-SAN DIEGO BOWS
The annual Breitbard Athletic Foundation College Prep All-Star game changed format.
From 1949-55, the game matched the Los Angeles City Section all-stars against an all-Southern California team.
The opponents this year were Los Angeles and a San Diego County squad.
The Los Angeles team scored a 19-0 victory before a crowd of about 10,000 at Aztec Bowl.
COACH SPEAK
Escondido dressed 41 players compared to 21 for Vista when the undefeated teams met in an important Avocado League game.
"We respect them in spite of their numbers," said Cougars coach Chuck Embrey.
Embrey wasn't blowing smoke.
Escondido finally put the Panthers away, 16-13, on Chuck Wood's field goal from the 20-yard line with 2:22 remaining.
FIELD GOAL MANIA
Wood's placement was the second of the season by an area kicker.  Hoover's Walt Baranski toed a field goal from the nine-yard line to beat Grossmont, 9-6, earlier in the year.
Baranski's field goal was the first in the County since 1952.
Field goals were so infrequent that newspaper correspondents often confused the distance, reporting the attempt from the line of scrimmage and not from point of the kick.
LET GEORGE DO IT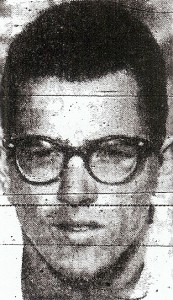 La Jolla's George Graham scored six touchdowns, ran for an extra point, and passed for another point after in his final game, a 37-0 victory over Fallbrook.
Graham's 37 points were the most since San Dieguito's Ralph Swaim scored 6 touchdowns and 36 points in a 1944 game.
QUICK KICKS
Helix tackle Roy Bottini was a first team, all-Southern California selection and San Diego center Ron Collins made the second team…Anaheim and Downey played to a 13-13 tie in the Southern Section finals before a record crowd of 41,383…San Diego had 3 touchdowns called back in a 21-7 victory over L.B. Wilson, which scored with 10 seconds left in the game, when the Cavers had only 10 men on the field…La Jolla, 16 players strong , defeated Mar Vista, 13-7, to end a 15-game losing streak… the Vikings' last victory was 7-0 over Rosemead in the 1954 season opener…Coronado coach Roger Rigdon declared that of the 200 boys enrolled in school, 100 reported for football…a City Schools carnival crowd of 16,000 saw the West team of Lincoln, San Diego, and Kearny defeat an East contingent of Hoover, Point Loma, Mission Bay, and La Jolla, 32-6…Lincoln beat Mission Bay, 14-6, and tied Hoover, 0-0, in two quarters of play…San Diego slapped Point Loma, 12-0…the Metro Carnival was an 8-6 win for Helix, El Cajon, and Sweetwater over Chula Vista, Mar Vista, and Grossmont….
Copyright secured by Digiprove © 2015-2016