Nick Pascarella delivered the cruelest rejection.
The Carlsbad running back rushed for 125 yards in 12 carries and scored two touchdowns as the Lancers pulled away from Rancho Bernardo to win, 40-16.
The same Rancho Bernardo which Pascarella attended and who was a member of the Broncos team that defeated the Lancers 24-21 in 2005.
The Broncos held a 16-14 lead in a frantic first quarter when Pascarella reminded his former teammates of who's who with a 52-yard touchdown gallop that gave Carlsbad a 20-16 edge at the end of the quarter.
"There was some tension since I moved and a lot of them were doing some talking," Pascarella told Kevin Gemmell of The San Diego Union.
Some of the talkers "are still my best friends," noted the Carlsbad senior.
STAYS FOCUSED
Pascarella was not thrown off stride.  "I just had to let it go," he said.   "This was our homecoming and business is business."
Business was so good for Pascarella and coach Bob McAllister's Lancers that they rolled to their second successive San Diego Section I championship with a 43-6 victory over Poway.
Pascarella personally escorted Carlsbad to D-1 finals, when he rushed for 315 yards and scored 6 touchdowns in a 63-21, semifinals rout of Escondido.
"I think Nick owes his offensive line a steak dinner," said McAllister.
MORE TRANSFERS
Pete Johnson at Torrey Pines and Noel Phillips at Escondido had been at Westview in '05.  Santa Fe Christian lost Stanley Paul, a running back-defensive back, to La Costa Canyon.
All three and Pascarella were productive players for their new teams, all of which, made the playoffs.
The San Diego Section is reputed to have some of the more stringent transfer rules in the state.  It was unusual that four top players would move to four top programs.
"If the parents upped and moved, there is really nothing we can do about it," said San Diego Section major domo Dennis Ackerman.
"You always want what is best for the kid," Rancho Bernardo coach Ron Hamamoto said of Pascarella, "but when he just picks up and leaves a week before two-a-days, it's tough."
EAST COUNTY AIR RAID
Rodeos and 4H competitions were taking a backseat in Lakeside.
A 21st century version of Air Coryell at El Capitan was being piloted by a quarterback from Alpine and a coach whose day job was project manager and accountant for a Santee sheet metal company.
Ryan Lindley, a strapping, 6-foot, 4-inch junior who eventually would set records at San Diego State and be drafted by the NFL Arizona Cardinals, was the quarterback.
Ron Burner was the coach who stirred up things at the 47-year-old campus when Burner scrapped the Vaqueros' traditional Wing T offense for the Lindley-favoring spread.
Burner had served as junior varsity coach and replaced Joe Cota in 2005.
El Capitan got all the way to 11-0 after a D-III, first-round, 52-28 rout of Cathedral but fell short, when St. Augustine upset the No. 1-ranked Vaqueros 51-43 in the semifinals.
Lindley and receiver Al Conti repeatedly hit the Saints with big shots, the quarterback completing 23 of 45 passes for 419 yards and four touchdowns, and Conti setting a section record with 326 yards on 14 catches and 4 TD's.
But the Saints outscored the Vaqueros 41-29 in the second half, highlighted by Leitch James' 71-yard touchdown run from scrimmage and 92-yard kickoff return on a reverse.
DESERT DUSTUP
What happens when the Imperial Valley's two oldest rivals come to a game with a combined record of 16-2 and the league championship, not to mention the Bell Trophy, to the winner?
The San Diego Union made an unusual decision and sent a reporter more than 100 miles to cover the regular-season contest.
Writer Bill Dickens noted that more than 7,000 persons jammed Brawley's Wayne Field and those who couldn't get a ticket were lined four deep, pressed against the fences that framed the field.
It was "arguably the biggest high school game in this community in decades," Dickens wrote.
El Centro Central (9-1) interrupted Brawley's nine-season run as Imperial Valley League champion and avenged nine consecutive losses in the battle for the bell with a hard-fought 14-7 victory.
Brawley (8-2) apparently broke a 7-7 tie with less than six minutes remaining but a 57-yard interception return for a touchdown by Darren Clark was nullified by a penalty.
150TH GAME
Central capitalized on the dramatic shift in momentum by going 53 yards in four plays to the winning touchdown in the the U.S.-leading 150th game in the series, which began in  1921.  Until 2004 the teams met twice a year.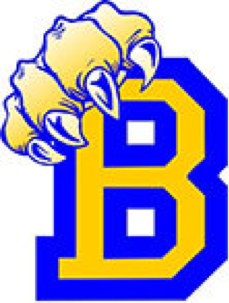 And keeping with the moment, the crowd that was near capacity 90 minutes before kickoff was treated to some resounding pregame music, including AC-DC's "Hell's Bells."
Brawley won a first-round D-III playoff, then was shocked 58-12 by St. Augustine, which won the III title with a 17-7 victory over Point Loma.  El Centro drew a first-round playoff bye, and then fell to Steele Canyon 31-17.
TOUCH OF CLASS
"I feel bad for El Capitan," said Saints coach Jerry Ralph, after his team had beaten Point Loma.  "They deserved to play in the (Qualcomm) Stadium.  They totally deserved it.  That's why I was so upset with the seeding."
Ralph was referring to the seemingly fair pairing which put the undefeated Vaqueros and the thrice-beaten Saints on the same side of the D-III bracket.
St. Augustine was seeded fourth in its division and had chosen to move up from IV to III.
RISING STAR
Santa Fe Christian, moving up from Division V, was second seed in IV but won that title, 34-21 over top ranked Mission Bay, for which 14-year-old freshman Dillon Baxter caught 5 passes for 97 yards and three touchdowns.
SIXTY SEASONS LATER
Chula Vista defeated Sweetwater 42-0, and was the first winner of the "Legacy of Pride" award, a glass-enclosed, platform-raised 1947 helmet, symbolic of the year the two South Bay rivals began play.
The award was created this year and goes to the winner in the County's  oldest, continuous rivalry
Despite the loss Sweetwater still holds the series lead, 36-21-3.
ALMOST PERFECT
The Bishop's Knights played more like the queen, in chess.
Although not quite the stature of  Spassky versus Fischer, Coastal League denizens looked forward to The Bishop's-Army-Navy league opener.
Each was 4-1 and had lost to the same team, Army-Navy to Capistrano St. Margaret by a 26-12 score and The Bishop's by a 3-0 margin.
Comparative scores meant little.
After essentially sleeping through the first quarter, the Knights scored touchdowns on seven successive possessions, made each PAT, and check-mated Army-Navy, 49-0.
DREADED ADMINISTRATIVE GLITCH
Crawford forfeited six games, including two victories, for using an ineligible player, who was found to be competing for a fifth year (five years in high school?)
Crawford's admission came in the season's final week and just days after Madison forfeited five games after discovery of an ineligible player with a similar situation.
Crawford's record was reduced to 2-7 with one game remaining.  Madison missed the opportunity to clinch a third straight Central League title.
Coincidentally the Colts and Warhawks met in the regular-season's final game, after the forfeits.  Crawford won, 22-13.
DREADED DISCIPLINARY ACTION
Mission Hills coach Chris Hauser mulled the idea of whether to reinstate eight players who were suspended before the 42-0 victory over San Marcos in Week 10.
The players were suspended for vandalism at San Marcos.  According to Knights coach Desi Herrera, the vandalism included spray painting the stadium press box and the Knights' playing field.
Mission Hills, forfeited out of the 2005 playoffs because of residential ineligibilities, finished the regular season with an 8-2 record.
"They embarrassed me, they embarrassed themselves, and they embarrassed their families," said Mission Hills coach Chris Hauser.
San Marcos students had spray painted the Mission Hills field in 2005.
KNIGHTS REWARDED
Mission Hills dumped San Marcos 42-0, but the Knights received an unexpected bonus.  They were given a playoff berth.
Madison and Crawford were out of the postseason because of forfeits, but instead of constructing an eight-team playoff bracket in D-IV the committee of former coaches, overseen by Dennis Ackerman, opted for a 10-team bracket.
Of the 11 eligible IV possibilities, San Marcos was picked over another winless club, Kearny.
Coach Desi Herrera defended his 0-10 squad
"O-10 is 0-10," Herrera admitted to writer Steve Brand, "but the beauty is we're starting a whole new season 0-0 and the playoffs are where we aspire to be.  I want the players to get used to going to the playoffs every year."
Coronado eliminated San Marcos 27-21 in Round I.
INTERSECTIONAL KING
Carl Parrick, the globe-trotting Bonita Vista coach whose teams had played games in the nation's capital, Hawaii, and Cuba, among other venues, was host to the Lumberjacks of Bogalusa, Louisiana.
The visitors did Disneyland, Sea World, the beach, and the other usual tourist attractions during a week in California, then defeated Parrick's Barons, 19-14.
"They were excited to be out here," summed up Parrick.  "We weren't."
TRAGEDY AT BRAWLEY
Brian Thomas, 17-year-old Brawley senior, passed away at University of California at San Diego Medical Center, where he was air-lifted after sustaining a spinal cord injury in practice.
The Wildcats' opening game with Rancho Bernardo was canceled.
The following week Brawley was at Indio, where coach John Bishop's players wore decals with Thomas's initials on the backs of their helmets and observed a moment of silence before kickoff.
COACH KILLED
The Brawley community suffered another blow when Clark Seybert, 56, the Wildcats' junior varsity baseball coach and a former Wildcats quarterback, was killed when the pickup Seybert was driving ran off a dirt embankment near the In-ko-Pah pass.
FORCIER ERA
The youngest of the "Forcier Force" was stepping up at Scripps Ranch.  Sophomore Robert (Tate) Forcier followed older brother Jason, the 2004 San Diego Section player of the year who was redshirting at Michigan, and Chris, quarterback at defending San Diego Section champion St. Augustine.
"Tate" so named after a character in the 1991 Jodie Foster movie, "Little Man Tate," scrambled 79 yards for a touchdown and completed 10 of 17 passes for182 yards and a touchdown in Scripps Ranch's 42-0 victory over Mar Vista.
DISCIPLINE?
La Jolla Country Day pulled out of a game with San Pasqual Academy, a school official at Day citing disciplinary measures involving its students.
The game was declared "no contest" and would be played at a later date, although the teams never met.
CELTIC GREEN?
Forget the victory cigar Boston Celtics coach Red Auerbach would light when a victory was certain. University City coach Patrick Coleman unwrapped and enjoyed a green lollipop after the Centurions' 14-0 victory over Clairemont.
"We're starting a bunch of new traditions," said Coleman.
Coleman would have to wait until the 2007 season to again celebrate. U. City was beaten by Steele Canyon, 28-0, in the first round of the playoffs.
QUICK KICKS—In its fifth season, Steele Canyon installed stadium lights and played its first game at home after dark against usual opening-game opponent Cathedral and won 20-13…after a 34-14 victory over Madison  in the opening game, Mission Bay coach Willie Matson said, "I believe we can go all the way"…the Bucs came close, finishing 10-2 and reaching the Division IV championship game before bowing to Santa Fe Christian 34-21…Hoover's 36-0 win over Morse ended a string of 10 straight losses to the Tigers, dating to 1968 and gave the Cardinals a 2-0 start for first time since 1999…San Clemente, ninth-ranked in Orange County, came South and defeated Oceanside, No. 1 in San Diego County, 27-9…H-Town Christian was the smallest school in California that was playing 11-man football…the Lions' enrollment was 40…ninety seconds from the biggest victory in the school's short history, Scripps Ranch saw its 14-13 lead over Cathedral turn into a 16-14 loss…the Dons intercepted a Falcons pass and Dylan Portas booted a 26-yard field goal with 15.7 seconds remaining…announced attendance for four championships at Qualcomm Stadium was 17,123…Christian edged Francis Parker,14-10, for the V title, played days later at Patrick Henry.  San Pasqual Academy won the 8-man title a couple weeks earlier over Borrego Springs, 64-14….
Copyright secured by Digiprove © 2013