The Hoover Cardinals could use the helping hand of Motel 6 maven Tom Bodett, voice of the signature "we'll leave the light on for you."
Night football is out at Hoover.
More's the pity.
The Cardinals became involved in a legal action with neighboring residents and a Superior Court judge unhappily issued an injunction, forcing Hoover to play home games in daytime for the remainder of the season, maybe longer.
Hoover defeated Morse, 22-0, in their Homecoming Friday afternoon and will reschedule kickoffs for Lincoln and San Diego.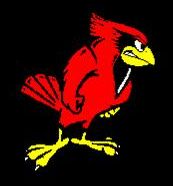 The victory improved the Cardinals to 5-1 under second-year coach Jerry Ralph, who was 6-5 last season following head coaching stints at Santana, St. Augustine, and Del Norte.
Now known as Bob Breitbard Field, Hoover's stadium was originally constructed in the early 1930s and was one of the first fields in the area to have  lights. (Balboa Stadium, home to San Diego High, did not have lights until 1939).
JACKIE ROBINSON STARRED
The Cardinals were hosts for a Southern Section playoff against Pasadena Muir Technical and Jackie Robinson under the lights in 1935.
The crowd of more than 4,000 in Hoover's original bleachers watched as Robinson threw a touchdown pass in Muir's 27-0 victory.
Those wooden bleachers burned down in the winter of 1948-49. New, steel-framed seating was in place in time for the 1949 season but installation of lighting was delayed.
Hoover played two "home" games at Aztec Bowl but the remaining contests in a remarkable, 8-1 season were on the road at Coast League sites.
One 1949 game actually took place on  campus. A postseason charity contest with Grossmont that started at 10 a.m. was played to help defray medical costs for an injured Foothillers player.
San Diego was growing and the Hoover field became increasingly important in 1951 when it began a decades-long stretch of doubling as a regional venue for many schools.
FIELD TAKES SHARP TURN
Hoover's stadium now has  an East-West footprint.  The original stadium ran south to north from the boys' gymnasium and faced Norwood Street, which began when Meade Avenue ended at 44th Street.
It was in the old alignment that Hoover scored perhaps its greatest victory, a 20-12 triumph over San Diego in 1956 before an overflow crowd of 7,000 persons who filled both sides of the stadium and the end zones.
AND THEN THERE WERE SEVEN
One leg of the second half of the regular season has been completed and seven San Diego Section teams have avoided the big haircut.
Four teams fell from the ranks of the undefeated last week, but Crawford, Francis Parker, Imperial, Mission Hills, Ramona, and San Pasqual are standing tall at 6-0.  San Diego Jewish Academy is 3-0.
Four clubs were 6-0 at this point in 2012.
Carlsbad, El Capitan, and Mission Bay fell with a thud, outscored by a combined 112-35 and becoming part of a group of 11 teams that have one loss.
Oceanside handled Carlsbad, 28-7.  Mount Miguel showed impressive force by running away from El Capitan, 42-21, and Madison, class of Division IV, walloped Mission Bay, 42-6.
Hilltop was upset by Sweetwater, 17-9.
LENDING A HELPING HAND
Isn 't this the way it used to be?
Members of Hoover's freshmen football team got into the spirit of community service after the Cardinals' Homecoming game against Morse Friday.
Wearing their red  game jerseys,  the Frosh "fanned out", according to varsity coach Jerry Ralph, pitching in to clean up and pick up in the neighborhood around the East San Diego campus.
Copyright secured by Digiprove © 2013-2015