That Tyler Gaffney led Cathedral to a State championship and scored a record 56 touchdowns in 14 games only reinforced the notion that this was a year of the running back.
Thirty-one San Diego Section players rushed for at least 1,000 yards and none were more productive than Gaffney, Escondido's Ricky Seale, and Madison's Robbie Rouse.
NORTH-SOUTH RUNNER
The 6-foot, 1-inch, 215-pound Gaffney was a power runner and long distance threat.  Third and short, fourth and goal, or from far outside the redzone, Gaffney was the package.
In 2013, when a group of San Diego writers selected the all-time, all-San Diego County squad, Gaffney was one of three, first-team running backs, joining Oceanside's C.R. Roberts (1953) and Lincoln's Darrin Wagner (1987).
Gaffney also was named state player of the year for 2008, selected by the respected Cal-Hi Sports.
"Tyler Gaffney is Justin Green and Demetrious Sumlin (earlier star backs for the Dons) rolled into one," said Cathedral coach Sean Doyle.  "He's physically the best back I've ever had."
Gaffney rushed for 324 yards in 33 carries and scored 6 touchdowns in a 58-32, regular-season victory over 5-0 Lincoln.
That monster performance, however, was not close to being the story of Gaffney's season.
OUTSCORES SCRIPPS RANCH HIS OWNSELF
Gaffney scored 7 touchdowns and 42 points on runs of 5, 12, 1, 1, 51, 3, and 41 yards in a 70-37 victory over Scripps Ranch.
In the words of The San Diego Union reporter Jim Lindgren, Gaffney "put a crushing, downfield block"  on a 96-yard kickoff return touchdown by teammate Josh Jacko and ran down the Falcons' Tate Forcier on the Dons' six-yard line after Forcier had raced 62 yards.
Nor did that performance define Gaffney's season
THE ULTIMATE CHAMPIONSHIP
After a 49-13 win over Valhalla in the San Diego Section III finals, the Dons were chosen to play in the State III championship against Stockton St. Mary's.
Gaffney gained 329 yards in 33 carries and scored five touchdowns.
And did more than run.
With the Dons trailing, 27-23, in the fourth quarter, quarterback Parker Hipp pitched to Gaffney, who then completed a 30-yard pass to Hipp.
Gaffney punched in from a yard for a touchdown on the next play, putting Cathedral in the lead, 30-27.
Gaffney's 51-yard run, following a 96-yard St. Mary's touchdown kickoff return that put the Rams in front, 34-30, secured the Cathedral victory.
"This means everything," said Cathedral's Don.  "Any good team can go to (a section championship), but it takes a real team to win State.  That's what we went out to prove."
It took all of Gaffney's exploits and outstanding field generalship by Hipp (9 pass completions in 11 attempts for 191 yards) to bring down the Sac-Joaquin Section champion.
St. Mary's quarterback Cody Vaz, kept his team coming, completing 31 of 46 passes for 336 yards and four touchdowns.
PUTTING IT IN PERSPECTIVE                
Gaffney had not decided where he would attend college, saying that his choices had come down to Stanford and USC.
"But I don't want to be known as Stanford-bound or USC-bound," he said.  "I would rather it be about our team going to the playoffs, not what I did."
An undefeated season and state championship accomplished, Gaffney chose Stanford and completed an outstanding career (with time out for  one year in the Pittsburgh Pirates' farm system) in 2013.
The NFL was the next.
RUSHING TO RECORD
Morse's Gary Taylor had set the San Diego single season rushing record of 2,625 yards in 1990.  Gaffney's closing push gave him 2,866.
Gaffney not only bettered Taylor's mark but he passed Seale and Rouse, whose seasons had ended in the San Diego Section finals the week before.
Seale, a junior and the son of 10-year NFL veteran defensive back Sammy Seale, also topped Taylor with 2,679 yards.  Rouse was the third to break the record, finishing with 2,632.
Seale would have another season to take a shot at Gaffney's record before following the Cathedral ace to Stanford.
The 5-foot, 6-inch, 170-pound Rouse, who was reminiscent of the diminutive Cleveland Jones of the 1955-56 San Diego High teams, went on to a brilliant career at Fresno State.
OCEANSIDE ON ROLL
The Pirates of coach John Carroll had a 21-game winning streak stopped in a surprising, 33-33 tie with Ramona, but Oceanside continued on to end the season with a D-II championship and a streak of 24 games without loss.
The San Diego Section record for most consecutive wins was 36 by Sweetwater from 1983-85. The Bishop's won 31 between '96 and '98, and Marian Catholic put together a 27-game streak from '02-'04.
VISIT BEAUTIFUL UTAH
La Costa Canyon coach Darrin Brown had to get out his Rand-McNally atlas.
The Mavericks' coach, stuck for an opponent to complete a 10-game schedule, took his team to St. George, Utah, to play Dixie High.
Helix had played Utah teams in 2006 and 2007, but the Mavericks' 450-mile sojourn marked the first time a San Diego County team had ventured into the Beehive state.
"We couldn't find a game here," said Brown.  "Teams that are better have a hard time finding preleague games."
The eight-hour bus ride and overnight hotel stay didn't adversely affect the Carlsbad squad, which scored a 42-27 victory over the Flyers, a Utah AAA school of about 1,000 students that opened in 1911.
40 MILES NOT THE ONLY DIFFERENCE
La Costa Canyon went on to win 10 consecutive games over San Diego County opponents including Escondido, 45-23, for the San Diego Section Division I title.
But the Mavericks, like many others from San Diego County through the years, could not match up with teams from Orange County, particularly Southern Orange County, which is perhaps 40 miles from the La Costa Canyon campus and with probably the same resources and similar student body.
Mission Viejo defeated LCC 38-14, and Rancho Santa Margarita edged the Mavericks, 18-14.
ENOUGH ALREADY
Three weeks after a game in which his team was penalized 15 times (with two personal fouls) and fumbled six (including four center-to-quarterback snaps), John Carroll of Oceanside still was answering questions about what happened in the Pirates' struggling, 26-23 win over opening-game foe Eastlake.
"I don't want to talk about it anymore," said Carroll. Especially after Oceanside, the defending state II champion went to 3-0 with a 42-24 victory over second-ranked Mira Mesa.
The Pirates made it 15 consecutive years in the Section semifinals under Carroll, then won their ninth championship in 11 tries, defeating Helix 23-19.
MAGNANIMOUS OR SOMETHING ELSE?
Was Madison coach Rick Jackson being sportsmanlike or was he looking for a psychological advantage?
The 10-0 Warhawks were seeded No. 2 in the D-IV playoffs, behind Valley Center, which was 8-2.
"Getting seeded number one should be a reward for not losing, but look at who (Valley Center) lost to, Oceanside and Ramona," said Jackson.
"When you have won two of the last three championships, you are the team to beat, and overall our league isn't as strong as theirs, so I understand."
The seeding panel of former coaches was on the mark. Coach Rob Gilster's Jaguars defeated Madison, 31-20, for their third championship in four seasons and in a rivalry that would heat up in subsequent seasons.
Other top seeds also came through.  La Costa Canyon (I), Oceanside (II), Cathedral (III), and Francis Parker (V) all won titles.
QUOTABLE
Madison's Rouse, on playing defense:  "I just want to get a sack and force a fumble and go to the house."
MAYBE NEXT YEAR
The Norsemen had been going to their Valhalla for 33 years.  Valhalla was 3-28-2 against Helix, but it opened the season 5-0 and averaging 34.4 points.
Valhalla began the Grossmont South league season at Helix with high hopes, but the Highlanders brought their neighborhood rival back to reality with a 28-14 victory.
HERE COMES…CUBA!
Renowned vocalist Cuba Gooding, Sr., was contracted to sing the national anthem before El Camino's game with Oceanside and to perform in two shows at El Camino, which was raising money to build a new gymnasium floor.
CALVIN ON MISSION
Calvin Christian quarterback David Stout hoped to play under the lights, so Stout and five teammates went before the Escondido City Council.
The quarterback shed some light on the second-year program and sought approval for illumination on the Crusaders' football field, amid neighborhood concerns about additional nighttime activity and noise.
Permission was granted, allowing Calvin Christian to install in time for the 2009 season.
Stout and all of his teammates also pitched in to help erect new bleachers at the football field, adding seats for about 200 additional spectators.
FIELD OF BAD DREAMS
Chula Vista and Sweetwater had to play most of their schedules on the road because of unsafe conditions at the schools' home sidelines, made of 60-year-old concrete bleachers.
Rebar was exposed in cracks of the concrete at both venues.   Repair was expected to take four weeks or longer.
A larger problem existed at Carlsbad.  Soil tests revealed elevated levels of arsenic six inches below the surface of the Lancers' field.
Carlsbad played home games at La Costa Canyon.
FIELD OF BAD DREAMS, PART 2
Oceanside and Scripps Ranch sat out a power outage that lasted almost two hours before the Pirates (with apologies to Monday night football analyst Don Meredith and his rendition of  "turn out the lights, the party's over") dismissed the Falcons, 49-14.
Oceanside led, 14-0, after 4 minutes, 21 seconds of play, when the lights at Simcox Field blinked and faded at 7:25 p.m. in the D-II playoff.
After one hour and 52 minutes, during which the teams returned to their locker rooms, temporary lights were in play.
The outage was blamed on released balloons becoming entangled in power lines, according to Boyce Garrison of The San Diego Union.
LIKE FATHER, LIKE…
Steele Canyon coach Ron Boehmke's son, Brad, played quarterback for the Cougars. Brad's grandfather, Russ Boehmke, was an all-City League quarterback at Lincoln in 1957.
Mission Hills coach Chris Hauser's son, Aaron, was a quarterback for the Grizzlies.
LIKE FATHER LIKE, CONT.
Steele Canyon defensive lineman Cameron Moss' father, Martin, played at Lincoln, UCLA, and for the Detroit Lions.
Derek White, a wide receiver at Valhalla, was the son of Leon White, who played at Helix, BYU, and for the Cincinnati Bengals and Los Angeles Rams.
IN NICK OF TIME
Poway's Nick Ricciardulli had watched the Titans with his older brother  almost from the time of Nick's Pop Warner days.
"I always knew that there's a guy at Poway, a guy who's going to get the ball," Ricciardulli told Glae Thien of The San Diego Union. "I just wanted to work hard so I could be that guy one day."
Ricciardulli became that guy as a junior in 2007 and set a school rushing record this season. He finished with 1,912 yards in 283 carries (6.8 average) and scored 22 touchdowns.
QUICK KICKS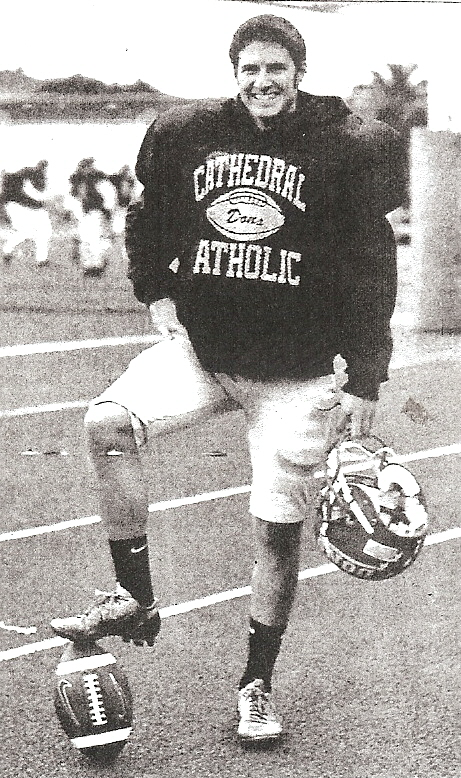 Cathedral's Roman Ferreira set a state record with 115 consecutive point-after-touchdown kicks in 2007 and 2008…Gavino Pinal intercepted three passes against Otay Ranch, tying an El Capitan record achieved in 1963 by Dave Nuttall…Ruben Diaz kicked a 35-yard field goal in  the final second to give Mission Bay a 38-38 tie with Point Loma…Madison alum and former St. Louis Rams coach Mike Martz addressed the Warhawks before they went out and defeated Clairemont, 21-7…Brawley lost to El Capitan, 41-22, in the III playoffs and finished with a 5-6 record, its first under .500 since 1994…said Brawley coach John Bishop:  "Football is like Murphy's Law…if anything can go wrong, it will go wrong, especially when you don't have your best athletes available"…St. Joseph and Lutheran set a state, 8-man record in St. Joseph's 94-76 victory…the combined 170 points broke a 1989 record of 158 points when Smith Valley, Nevada, defeated Big Pine, 82-76…Helix ended the season with 14 straight Grossmont South victories…two of Tyler Gaffney's blockers were 6-foot, 5-inch, 290-pound Alex Crosthwaite and 6-6, 320-pound Everett Benyard…San Pasqual (2-8) missed the playoffs for the first time since 1990…Helix' Scott Webb (1982) and Ramona's Tim Valencia (2001) hold the San Diego Section record with 5 field goals in one game…they were almost joined by Valhalla's Pete Thomas, who missed a fifth when his 42-yard attempt was wide left against Steele Canyon…Patrick Henry, 24-57 with no winning seasons and four different coaches from 2000-07, rallied to 7-5, then coach Mike Williams stepped down….
Copyright secured by Digiprove © 2013-2015