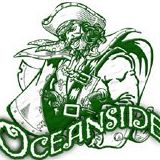 Cal-Hi Sports has spoken.
Oceanside, 12-1, and San Diego Section II champion, is 15th in the newletter's final 2012 state rankings.  The Pirates are fourth in Southern California D-II, following Gardena Serra, West Hills Chaminade, and Huntington Beach Edison.
Other San Diego Section entries were far down the list.
In D-II Poway (10-3) is 41st overall and ninth in the South; Helix (10-1), is 44th and 10th, and Valhalla (9-4), is 45th and 11th.
Madison (14-1)  was first among the South's D-III squads, but 46th overall.
But for a 30-20 loss to Temecula Chaparral which took on added importance each week as Chaparral lost its last four games after a 7-0 start, Oceanside would have been matched against Gardena Serra in the Southern California regional playoff.
If you believe the final CalPreps power ratings, coach John Carroll's Pirates would rank 11th in California, but that hypothesis is flawed because the teams that finished with lower power ratings advanced further than Oceanside in the postseason and lost points when defeated in the regional playoffs, in which Oceanside didn't participate.
Cal-Hi's top 15 with CalPrep power ratings:
1–Concord De La Salle, 76.2.
2–Corona Centennial, 69.4.
3–Harbor City Narbonne, 68.3.
4–Vista Murietta, 66.3.
5–Gardena Serra, 66.2.
6–Folsom, 59.0.
7–Granite Bay, 64.5.
8–Long Beach Poly, 67.2.
9–Bellflower St. John Bosco, 67.0.
10–Santa Ana Mater Dei, 65.4.
11–Ventura St. Bonaventure, 60.5.
12–West Hills Chaminade, 57.8.
13–Mission Viejo, 64.1.
14–Huntington Beach Edison, 57.8.
15–Oceanside, 60.6.