San Diego had two teams in the Southern California finals and another poised to advance, but none went the distance.
Three losses by the area's best, based on size, made for a  bitterly disappointing end to a difficult and unprecedented season, made uneven and often unimportant by the invasion of a virus known as the Asian Flu.
San Diego High won  11 consecutive games at the big table, then fell flat and lost in the championship, 24-7, to Downey. The Cavers also lost in the finals in 1925, '33, and '47.
Ramona, after sitting for three weeks with canceled or postponed games,  was beaten by Bishop 33-0 in  finals for the smallest schools,  those with under 500 enrollment.
And Escondido, which crushed opponents in an Avocado League swansong, literally was outrun, 20-14, by Santa Ana Mater Dei in the quarterfinals of the Southern Group minor playoffs (there also was competition in two other small school groups, Central and Northern).
SLEIGHT OF HAND
Quarterback Pete Yoder of Downey almost faked San Diego High right out of Aztec Bowl, where some 12,500 persons were on hand, including 22 busloads of red-clad partisans who ventured down U.S. 101 to support the visiting Vikings and arrived two-and-a-half hours before kickoff.
(The Downey supporters  also were hungry, setting an Aztec Bowl record at the concession stands, according to San Diego State official Spence Gartz).
Downey had knocked out San Diego, 35-21, in the first round of the 1956 playoffs, when the Vikings were  on a fast track to a legendary championship game that would pit Downey's Randy Meadows against Anaheim's famed Mickey Flynn.
San Diego was favored in the rematch.
After starting the season with a loss and a tie, Downey kicked in with 11 straight victories.
Yoder flawlessly ran  the so-called belly series, in which the quarterback attempts to confuse the defense by appearing to hand off to a ball carrier, then withdraws the ball and hands off to another back or runs or passes.
The Vikings rushed for 293 yards, including 194 in the second half.  San Diego ran only six offensive plays in the third quarter and just 16 in the second half.  Downey was successful on one of two onside kickoffs after intermission.
San Diego narrowed the score to 18-7 with 8:45 remaining in the game, then did not see the ball again until 15 seconds were left as the Vikings played keep-away.
The Cavers never figured out the Downey offense.
Cavers coach Duane Maley, who was thinking about retirement and moving into administration, was shocked but not at a loss for words.
"Our line didn't hold up," Maley said to Jerry Magee of The San Diego Union.  "We made too many mistakes and they didn't make any.  We're not that bad and they're not that good."
The Cavemen had swept the City Prep League, then outpointed Sweetwater, 31-7, Montebello, 27-7, and Whittier, 20-6, to gain their sixth trip in 41 years to the finals.
HONORS
San Diego tackle Calvert Fackrell was a first-team all-Southern California choice.  End and teammate Neal Petties and quarterback Ezell Singleton were second team.
Teen magazine named Fackrell, Lincoln quarterback Russ Boehmke and Coronado halfback Hal Tobin to its all-America team.  Boehmke and Tobin received honorable mention on the Wigwam Wisemen of America all-star squad. Seven teams were selected with Jim Josephson of San Jose the only Californian on the first squad.
NOT THAT BISHOP
Ramona's opponent in the smallest schools finals was not the private institution in La Jolla, which was years from fielding a football team.
The Bulldogs took on a team located at the foot of the Eastern High Sierras in a small community not unlike Ramona's, although sitting a couple thousand feet higher.
Bishop bused more than seven hours and 355 miles south, but it was the host Bulldogs who lacked energy. The visiting Broncos scored in every quarter.  Ramona twice advanced to the visitors' 20-yard line but gave up the ball.
Escondido outgained Mater Dei, 364 yards to 359, but the Monarchs, guided by future NFL coach Dick Coury, rushed for 340 yards and, after building a 20-7 halftime advantage, held off the Cougars before 6,500 persons at Escondido.
The visitors came on the field in a military double time and ran their plays with soldierly precision. Fullback Henry Enriquez kept the Cougars at a distance by rushing for 171 yards in 26 carries and scored on a 32-yard run.
SAINTS FINALLY FIND THEIR NICHE
St. Augustine joined the City Prep League after decades on the outside.
The school opened in 1922 and played its first game in 1924, then meandered through the years with a "Have-Team-Give-Us-A-Game" mantra.
The Saints were in the Southern Prep League from 1941-43 but their games did not count in the standings.
St. Augustine was a member of the Los Angeles-area Southland Catholic League from 1945-50.  Travel was costly for the small, private school, which teetered on insolvency.
The Rev. John  R. Aherne joined the school faculty in 1942 and was named principal in 1952. The 6-foot, 5-inch Aherne became a towering figure in the community.
Aherne lobbied the media, enjoyed power lunches with civic big shots at the Grant Grille downtown and Lubach's on Harbor Drive,  and was the driving force behind St. Augustine's "Appreciation Night" which was first held in 1955 and became an event so large in scope that principal speakers included major college coaches and some of the country's leading sports figures.
City schools, uneasy about St. Augustine's ability to recruit in their school districts, possible conflicting  eligibility issues, and that the Saints represented the  Catholic religion, finally let them into the club.
In its 33rd year of football St. Augustine at last had some local partners.
THREE NEWCOMERS IN THE VILLAGE
Crawford opened on 55th Street in East San Diego, taking a huge chunk of Hoover's enrollment.
Carlsbad finally broke off from Oceanside and went out on its own, but students still attended classes in the building at Oceanside High.  There no longer was an Oceanside-Carlsbad High.
Helping itself to Helix and Grossmont expatriates, Mount Miguel rose in Spring Valley, in the shadow of the 2,559-foot Mount San Miguel.
Crawford and Carlsbad essentially played junior varsity opponents. The teams' varsities met and  Carlsbad defeated Crawford 20-13, on John Penrod's 85-yard pass interception return.
OLE!
Mount Miguel's Matadors had some impressive firsts.  Rocky Barsotti scored a touchdown the first time Mount Miguel had the ball in the Metropolitan League carnival.
Wayne Summers returned the opening kickoff 80 yards for a touchdown and the Bullfighters dispatched Mar Vista 20-6 in their first-ever game.
Coach Tom Welbaum, who left Helix to Dick Gorrie when the Mount Miguel position opened, directed the new school to an impressive, 5-3 start. Included were victories over big brothers Grossmont, 32-14,  and Helix, 21-19.
AVOCADO COACHES WAVE WHITE FLAG
There was  no question that coach Bob (Chick) Embrey's Escondido Cougars were a landslide choice to win the Avocado League.
Oceanside's John Simcox described the Cougars as "sure winners".
"Escondido could lose its eleven starters and still have a club which could take the league," said Mar Vista's Art Filson.
The Cougars are "twice as good" as anyone else, said Vista's Harry Johnston.
Pessimist Embrey tried to downplay his club's prospects, but wasn't convincing:  "I thought it might be our year to really go, but in addition to…injuries (17 players reportedly out for awhile), our line hasn't been coming around."
The Cougars were undefeated in league play (6-0) and outscored its brethren 239-52 en route to a 9-1 campaign. A 47-6 win over Fallbrook gave Escondido a sendoff of 18 consecutive league wins.
HIGH-STEPPING HAL
Coronado's Hal Tobin (below) was the leading scorer in Southern California with 144 points in nine games, although Escondido held Tobin to 51 yards in 18 carries and one touchdown when the Cougars routed the Islanders 49-18 in the Avocado League's biggest game.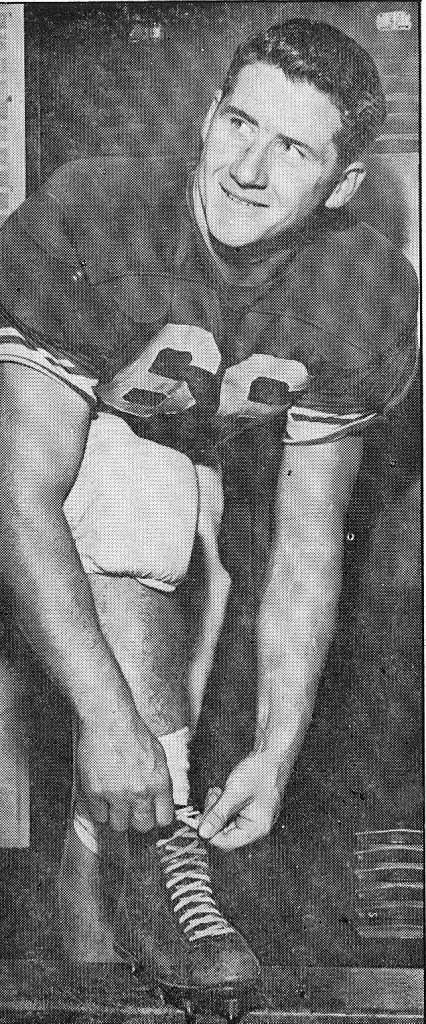 Tobin, who would continue on to play at USC, finished with 1,029 yards in 127 carries for an  8.5-yard average in leading the undermanned Islanders to a 5-4 record.
Tobin was unique in pursuit of points after touchdowns.  He ran for the point by lining up 8 yards behind the center and taking a direct snap.
STEP RIGHT UP!
Writer Jerry Magee of The San Diego Union let it all hang out in the lead on his story for the City Schools carnival:  "Some 300 strutting girls…eight bands, music, pageantry, and football derring do–and all for the price of a single admission!"
Magee described a "sideshow hawker in a checked vest" employing such a spiel to describe the 19th annual event, which drew 20,000 to Balboa Stadium.  On the same night the Metropolitan League carnival was viewed by an overflow crowd of 12,500 in Aztec Bowl.
The East's Kearny, Point Loma, Lincoln, and San Diego outscored the West 24-0 as each squad scored a touchdown in the City League extravaganza.  El Cajon, Mount Miguel, and Helix of the East topped Grossmont, Chula Vista, and Sweetwater of the West 13-6 in the suburbans' fourth annual carnival.
SIGN OF THE TIMES
The state division of highways announced plans for a four-lane road from San Diego to Yuma, Arizona.
"When the freeway is completed you will be able to drive from San Diego to Yuma without encountering a stoplight or intersecting road," said Jacob Dakema, district highway engineer.
The trip would obviously be  faster but also shorter, said Dakema.  The Highway 80 route covers 178 miles.  The interstate drive will be 173 miles.
The freeway will be part of the Interstate Highway System, inaugurated in 1956 by President Eisenhower partly as a means of quicker transportation and mobilization of troops in event of a crisis in the Cold War with the Soviet Union.
THE KEARNY COMET
Ed Buchanan  of Kearny led the CPL with 86 points in eight games and scored 53 consecutive points for the Komets, including the last touchdown in a 13-13 tie with Point Loma.  He scored  all of his team's points in a 26-13 win over St. Augustine and 13-6 triumph over Hoover, and the first seven points in a 44-20 win over Mission Bay.
The 165-pound, :09.6 100-yard dasher passed 50 yards to Kenny Griffin for the second touchdown against Mission Bay, then returned a punt 75 yards for the third touchdown.
Buchanan, who rushed 24 times for 209 yards against St. Augustine, had two additional touchdowns against the Saints nullified by penalties.
Buchanan went on to an outstanding career at San Diego Junior College, was a nine-season player in the Canadian Football League, and was named to the Saskatchewan Roughriders all-time team.
YUMANS IMPRESSED
San Diego did not have  benefit of a new highway, as it bused to  Arizona  over the circuitous U.S. 80.
Quarterback Ezell Singleton completed 14 of 16 passes (the two incompletes were drops) as the Cavers wowed an overflow crowd of 9,000 and defeated the Yuma Criminals 40-0, with a demonstration of ball control.
Four of the Cavers' six touchdowns  came on drives of 60, 79, 65, and 75 yards. Highlight of the game, however, was a point after touchdown.
The play began with Singleton taking the snap from center, but Singleton soon was trapped by a horde of defenders.  The quarterback lateraled the ball to Bobby Anderson, over Anderson's head.  The elusive halfback recovered and weaved his way 25 yards into the end zone.
REALIGNMENT
Escondido, twice the size of other Avocado League schools with an enrollment of almost 1,400, will return to the Metropolitan League in 1958.  The Cougars were in the Metro from 1933-42 as one of the original members. They were part of a CIF-designated Group 12 affiliate from 1943-45.
Escondido returned to the Metro in 1946 and became a charter member of the Avocado League in 1954.
City Prep League bosses met for five hours and adjourned with a plan to realign in 1958 with two divisions in basketball and baseball.  Football would continue with one round-robin schedule. La Jolla would continue to be a member  but its games would not count in football.
A new high school, James Madison in Clairemont, reportedly would open in 1958 with its teams competing on a junior varsity level for one year. Madison would bring to 10 the number of CPL schools.
Lincoln, St. Augustine, Hoover, San Diego, and Point Loma would form one division and Kearny, Mission Bay, La Jolla, Crawford, and Madison would be in the other.
Realignment would come in the city with advent of the Eastern and Western Leagues but not until 1959.  Madison would not open until 1962. And La Jolla returned to league standings in 1958 after two seasons in which its games did not count.
REVENUE AND LIGHTS
Lincoln vice principal George Parry attended the re-leaguing meeting and pointed out that the issue of facilities never came up and that only three of the nine CPL schools had lights: La Jolla, Hoover, and San Diego/Balboa Stadium.
Parry revealed that Lincoln realized about $2,000 as its share of gate receipts for a night game in Balboa Stadium with St. Augustine. Lincoln's share for an afternoon contest with visiting Kearny was about $200, Parry said, stressing the need for more fields with lights.
THE GAMBLER
Shan Deniston always thought the odds were in his favor.
The new Lincoln coach faced a fourth down and three yards to go at Lincoln's eight-yard line in a game in which the Hornets trailed at Point Loma 7-6 early in the fourth quarter.
Fullback Dick Carey wedged for the first down and Lincoln went on to complete a 99-yard drive, scoring on quarterback Russ Boehmke's 43-yard dash. Lincoln won 20-7.
Deniston tested his luck again in Balboa Stadium against San Diego.
After stopping the Cavers on Lincoln's 5, 20, 16, and 4-yard lines in the first half, the Hornets were on their 36-yard line with  fourth-and-two.  Less than a minute remained in the half.
Lincoln passed incomplete and San Diego took over.  On the next play Bobby Anderson zigzagged through the Hornets' defense to score with 35 seconds left in the half.  San Diego won, 13-7.
Hoover's Roy Engle strangely rolled the dice against Mount Miguel.
Art Samuel and John Erickson had combined on a 50-yard touchdown pass play to put the Cardinals ahead 21-14 with a minute to play.
Hoover then stunned its home crowd by attempting an on-side kickoff.  The Cardinals recovered and quickly scored again in a 28-14 victory.
SANGUINARY FLOW
"We've tasted the tiger's blood and like the taste," said Chula Vista coach Bob Geyer after the Spartans surprised Helix' defending Metropolitan League champion, 32-19, and went on  to a 28-6 win over Mount Miguel and 52-19 victory over El Cajon Valley before a 20-13 loss to Sweetwater in  the  title-deciding final game.
1957 or 1954?
Only the first names changed.  Hoover's Jim Pfister, Sam Sharamitaro, and Jim Young all had brothers, Bill, Al, and Ken, respectively, who played for the Cardinals in 1954.
QUICK KICKS
Ramona defeated Claremont-Webb, 6-0, to end a 25-game winning streak for the Gauls…the growing CIF Southern Section, now numbered 270 schools…Sweetwater set a school scoring record in a 59-0 victory over El Cajon Valley, bettering a 57-0 romp over Oceanside in 1926, the last season the Red Devils were in the SCIF playoffs…Sweetwater's 8-2 record represented its most wins since the 1941 squad went 8-0…official San Diego city population was 494,201 on the June 1 start of fiscal year…a new rule restricted city football coaching staffs to 4, for varsity and JV…Grossmont coach Ken Maynard was direct, predicting that his team "is certainly going to better its sorry showing of a year ago."…the Foothillers improved from 1-7 to 4-4…Lincoln's Russ Boehmke passed for 271 yards against Kearny, completing 11 of 17 attempts and touchdown passes of 32, 29, 19, and 50 yards, plus running 16 yards for a touchdown in a 33-13 victory…Chula Vista and St. Augustine had their wrists slapped by CIF Southern Section commissioner Ken Fagans for scrimmaging before the permitted date…Kearny coach Don Henson coached from the press box in the first half of a 13-13 tie with Point Loma…Lincoln and St. Augustine scored five touchdowns in the last seven minutes, the Saints winning 25-18…attendance for the 25th San Diego-Hoover game was a disappointing 6,000…Mount Miguel was 2-0 and feeling its oats when the Matadors took on Sweetwater…"They're hot but we're going to cool them down a bit," said Tom Parker, whose Red Devils shut down the Lemon Grove team, 18-0…St. Augustine's JV defeated Lincoln 7-6 when Raul Martinez reached back into the mists of time and drop-kicked the winning point after touchdown…San Diego was behind for the first time all season when Point Loma led 13-7 into the fourth quarter, but Willie McCloud ran 32 yards for a score and Ezell Singleton ran five yards for a touchdown with 46 seconds remaining and the Cavers pulled out a 21-13 victory…the San Diego-Sweetwater playoff was considered a home game for both teams, although the Balboa Stadium site was on the San Diego campus…a coin flip determined after the game that the Cavers would be  visitors for the quarterfinals against Montebello…that game was played at East Los Angeles Junior College, as was the semifinal game versus Whittier…San Diego's yell leaders were reinforced by one cheerleader from every other school in the CPL when the Hillers played Downey…Lincoln rushed for 361 yards in an opening-game, 46-13 rout of Chula Vista…San Diego and Hoover teams came together at the North Park Lions Club's annual dinner honoring the Cavers and Cardinals at the Imig Manor (later known as Lafayette Hotel) on El Cajon Boulevard….
Copyright secured by Digiprove © 2014-2015