St. Augustine students residing in "The Pit," were off their game last night.
When the score reached 79-20, the vocal cheering section in a  corner of the Saints' tiny gymnasium began serenading visiting Mar Vista players with "This game is over!  This game is over!"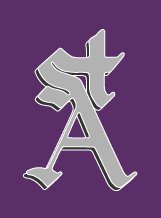 The game actually was over barely a minute after it began, the Saints stunning the Mariners with eight consecutive points.
Coach Mike Haupt's team pressed the visitors throughout, and unleashed a suffocating, man-to-man defense in winning the San Diego Section Division III first-round playoff,  87-22.
The Saints (22-4) led 29-8 after one quarter and 53-16 at halftime.
The home team entertained a turnout that included San Diego State associate head coach Brian Dutcher with an explosion of dunks, breakaways, and three-point bombs that appeared to be launched from nearby 32nd Street.
Haupt emptied his bench fairly early in the third quarter when the Saints were leading 64-18.
Though never in it, Mar Vista (13-16) hustled and played hard all the way.
Next up for the Saints is a quarterfinals game against Mount Miguel Saturday, February 22, at St. Augustine.  Mount Miguel defeated Del Norte 74-53 last night.
Cathedral Catholic, top-seeded in III and favored to meet the Saints in the finals, walloped San Diego High Tech 93-30 in its first-round "test".
HUNDRED POINTS OR BUST
In another why-was-this-game-even-considered Division V mismatch, Horizon's girls defeated Foothill Christian, 101-4.
The blowout reinforced the idea that too many unqualified teams are invited to the playoffs, serving as sacrificial lambs in the name of more brackets and more revenue.