Seventeen teams with losing records and three .500 squads  made the San Diego Section playoffs.
It doesn't look as ridiculous as in previous years.
Pairings announced Saturday promise good games, even  in early rounds, especially considering size of brackets and number of divisions.
Only in Division II is there virtual mediocrity. Seven of the eight, first-round visiting clubs have losing records, some real bad (see Hills, Granite 7-19).
D-II clubs have a combined .503 winning percentage and overall record of 198-196.  The others reflect more success:  Open–157-65, .707; I–251-173, .592; III–260-148, .637; IV–216-166, .565; V–108-55, .662.
OPEN IS OPEN
The eight-team Open Division promises big matchups in later rounds.  Only Vista (7-20) and Lincoln (13-12) look out of place.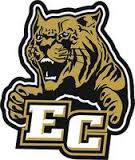 St. Augustine (26-2) and El Camino (26-3) are the Open 1-2 seeds and could meet in a blockbuster final at the University of San Diego's Jenny Craig Pavilion on March 8.
Eastlake (23-5) and Mission Bay (13-8) are top-ranked D-I entries, but that division looks wide-open.
San Marcos (18-8) is dangerous.  In-an-outers Poway (17-11), Carlsbad (17-11), Escondido (19-8), Westview (17-10), Helix (16-12), and Cathedral (15-10) all could make runs.
'DEI AND PARKER
Mater Dei (24-2) and Francis Parker (22-4) should  ride to the D-II final.
Teams in the Mater Dei half of the bracket are a combined 80-103. Teams in Parker's half are 94-92.
Sweetwater (25-0) and Kearny (21-2) are at the top of D-III, but questions persist over Kearny's less-than-robust list of opponents.
Foothills Christian could meet Sweetwater in  the semifinals in  the division's most appealing contest.
D-IV lacks pizzazz, although Orange Glen (22-5) has emerged after years in the tank.  Second seed behind the Patriots is Tri-Christian (18-8), which has dropped two to D-V seven-seed Pacific Ridge.
D-V is the smallest of the small.  Escondido Adventist (18-6) is top seed.
Copyright secured by Digiprove © 2014