What a difference 50 years makes.
The population growth of San Diego's North County coincided with the rise of the once small and remote Avocado League.
After years of  ascendancy, a punctuation mark was added this season.
As Tom Shanahan of The San Diego Union pointed out:
–Five Avocado schools ranked in the top six of the County Top 10.
–Avocado champion El Camino won the section Division I title, defeating Carlsbad in an all-Avocado final.
–Oceanside won the D-II championship.
–Five of the league's six schools were unbeaten against nonleague opponents and posted a 32-2 record against outsiders. (La Costa Canyon, 3-7 overall and 0-5 in the league, was beaten by two North County Palomar League teams).
—Cal-Hi Sports declared the Avocado League the most competitive in the state.
–El Camino was ranked third in the state behind Concord De La Salle and Newhall William S. Hart by Cal-Hi Sports.  Oceanside was twelfth.
–Torrey Pines, with a 91-29-2 (.754) record, and El Camino, 92-36-1 (.717), had the best San Diego Section records for the decade of the 1990s.
"GOOD AS ANYWHERE"
"I came here from a strong league," said Randy Blankenship, who coached state power Clovis West before moving to Fallbrook this year. "What made the Avocado different is we faced a college running back every week."
"…In general North County football is as good as anywhere in the nation," said Carlsbad coach Bob McAllister.
"I'm not saying we'd beat (Concord) De La Salle (winner of almost 100 games in a row), but…our top teams could play with anybody," said El Camino's Herb Meyer.
MEYER'S WAY
Writer Mick McGrane called him the "Fumin' Human.
Herb Meyer's backside could quickly turn the color of a summer sunset.
But Meyer's style and toughness had carried him through 40 seasons, the first 17 at Oceanside and the last 23 at El Camino.
Now the coach was poised to become the first ever in California and the 27th in the United States to win 300 games.
This landmark victory could have been accomplished a year before, were it not for Meyer's refusing to nominate his 3-6-1 team in 1998 for a playoff berth.
History shows that many sub.-500 teams accept playoff invitations and most campaign for them.  An 0-10 team has made the postseason.
"I refuse to be a hypocrite," said Meyer on the eve of his 300th win.  "I'm the guy, when we expanded the playoffs (to 12 teams in 1987), said we should only have eight teams. "I think the playoffs should be a reward for a good year."
Meyer gave up more than the chance to go to the playoffs. The Wildcats' 17-season streak of winning their playoff opener also ended.  "That was a point of pride," said the coach.
College Prep of West Vancouver, British Columbia, was no match for El Camino, which exploded for 42 points in the first quarter and won, 66-13.
HERB'S HALLMARKS
| | | |
| --- | --- | --- |
| VICTORY | OPPONENT | DATE |
| 1 | Oceanside 34, Blythe Palo Verde 0 | Oct. 9, 1959 |
| 50 | =Oceanside 21, Orange Glen 14 | Oct. 28, 1966 |
| 100 | *Oceanside 7, Clairemont 6, @Mesa College | Nov. 24,1974 |
| 150 | =El Camino 33, @Ramona 6 | Oct. 8, 1982 |
| 200 | El Camino 22, Fallbrook 20 | Sept. 23, 1988 |
| 250 | =El Camino 28, San Pasqual 7 | Nov. 6, 1992 |
| 300 | El Camino 66, W. Vancouver Prep, Canada 13 | Sept. 8, 1999 |
=League game.  *Playoff.
JUST A START
El Camino followed up the next week with a 62-6 rout of Morse and never looked back. The Wildcats' 13-0 record matched that of Meyer's 1984 champions and was the last of his 10 San Diego Section championships.
The playoffs proved the easier for El Camino. To get there the Warriors had to defeat league rivals Carlsbad, Torrey Pines, and Oceanside in the final three regular-season games.
Carlsbad fell, 19-7, Torrey Pines, 18-9, and Oceanside, 58-35. El Camino earned a first-round playoff bye,  then ran past Rancho Bernardo, 48-34, Poway, 43-6, and Carlsbad, 24-6, for the championship.
BIG, AS IN BIG
"One of the biggest high school football games in the county over the last twenty-five years," enthused Tom Shanahan in his writeup  before neighborhood rivals El Camino (9-0) and Oceanside (8-1) rolled in the dirt.
STORK CAN'T WAIT
Felicia Shaw fidgeted as she sat in her living room, watching the San Diego Chargers' 1981 AFC playoff at Miami. Pete Shaw, her hard-knocking free safety husband, was neck deep with the Chargers in their epic divisional round game in the Miami Orange Bowl.
But the major player in what became  family legend was Kenneth Ryan Shaw, who was not yet born but warning his mother that he was on the way.
Felicia was not due.
Kenneth Ryan wasn't expected for another six weeks. "Who knows why kids come early, but I got so excited in the game that Ryan started kicking," Felicia laughed as she spoke to Tom Shanahan.
Maybe Ryan sensed what was going on in that topsy-turvy thriller almost 3,000 miles away. The Chargers finally pulled out a 41-38 victory in overtime.
Pete Shaw, spent physically and worn out  from the excitement and tension,  wearily flew home with the team. But the Chargers' veteran didn't get much sleep.  Felicia was in labor.  Ryan was born premature the next day and weighed in at 4 pounds, 10 ounces.
"The game was so dramatic," said Felicia, going back to that evening. "I think it shook Ryan loose." The premature baby grew to be a 6-foot, 190-pound offensive and defensive star for the La Costa Canyon Mavericks.
"Ryan is bigger than I was when I came into the league," said Pete Shaw.
THE NEXT GENERATION
Four other sons of Chargers who played in that Miami barnburner were active on San Diego prep fields.
–Cornerback Willie Buchanon's son, William, was a junior wide receiver at Oceanside.
–Center Don Macek's son, Scott, was a senior linebacker at University.
–Duke Preston, senior center for Mt. Carmel, is son of Chargers linebacker Ray Preston.
–Kellen Winslow, Jr., was a junior tight end at Scripps Ranch.  The senior Winslow set an NFL playoff record with 13 catches against the Dolphins.
THE MATSON LINE
Hoover's 7-0 start had been matched only by the 1954 team and the Cardinals, under fourth-year coach Willie Matson, set a school record for most victories in their 10-2 season.
Winning is the great elixir. Matson's athletes enjoyed Thursday night team dinners and wore ties to school on Friday.  They finished every practice with a shout of "Family!".
Before the 1998 squad went 8-4, Hoover had not had a winning season since 1987, only two winning seasons since 1969, and in 16 of those seasons had two or fewer victories.
Matson was accustomed to athletic success.  He was a perennial champion in the annual, summer Over-the-Line beach softball tournament at Fiesta Island.
ANOTHER REBOUND
Fallbrook, like Hoover, was coming back under first-year coach Randy Blankenship, who left a Central Section power and 90-14 record at Clovis West.
Blankenship's 1993 team was ranked eighth in the country and the team he left behind was in the U.S. top 25.
With those kind of credentials, Blankenship was able to get people's attention in the far North County community.
Fallbrook, 11-49 from  1993-98, raced  to five straight victories. All of sudden red Fallbrook jerseys and shirts were seen up and down Main Street and the Warriors' 3,500-seat stadium was overflowing at Friday night home games.
Traffic became so bad that the Highway Patrol began ticketing cars on nearby Stagecoach Lane.  The school responded by operating shuttle buses from Christ the King Church and the Palomar Land Conservatory.
Advancing with Blankenship's version of the Wing T, Fallbrook improved to 7-4-1. A taskmaster, Blankenship described his coaching style:  "I push and push and push to the point of mutiny."
ROLL ON
Torrey Pines coach Ed Burke said it best about Carlsbad's 250-pound quarterback-running back Pana Faumuina: "It's like being on the freeway with an 18-wheeler coming at you."
Faumuina arrived in San Diego from American Samoa at age 8.
He had no knowledge of football but saw kids playing in a park. "I asked what they were playing," said the strapping 17-year-old, "and they said football.  And I thought, 'You know, I may be good at this.'"
As  Shanahan noted, "Call it Pana-Vision."
CASE OF BROKEN LIGHT BULBS
Torrey Pines coach Ed Burke spotted what he thought were hundreds of pieces of styrofoam  littering the Falcons' football field as he drove in to school on an early November morning.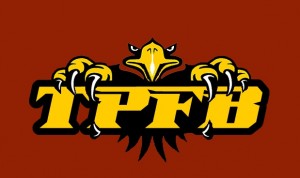 It wasn't styrofoam.
Between the end of practice at 7 p.m. the evening before and Burke's arrival the next day vandals commandeered boxes of florescent light bulbs, crushed them, and scattered the shards on the gridiron.
Burke discovered several cardboard boxes on the field, many of which still held unbroken bulbs. Fragments of others also were found  on the gravel track surrounding the gridiron, and on adjacent bleachers.
Coaches tried raking or vaccuming the shards.  Nothing worked.
A safety threat to players on both teams necessitated moving Torrey's home playoff game with Fallbrook to  La Costa Canyon, up the road in Carlsbad.
Years later the coach and some members of his staff remembered the incident.
"We seem to recall that the unknown vandals found the bulbs in our (school) dumpsters," said Burke.
The scofflaws apparently got away clean after they're late-night caper.
Burke and his coaches still had a important undertaking at hand.  "Nobody likes giving up a home game," said the coach, but Torrey persevered and eliminated Fallbrook, 31-25.
ALOHA!
Horizon and Bonita Vista received grandfather exemptions from a new San Diego Section ruling that prohibits games more than one week before the scheduled season opening weekend for San Diego teams.
Area schools for years had played intersectional contests and games against Canadian and Hawaiian squads in August and early September. Bonita defeated Wailuka Baldwin of Maui, 41-24. Horizon stopped Maui Kahului Kaahumanu, 53-12.
I'LL PASS, YOU CATCH
Santana quarterback D.J. Busch and wide receiver John Fields set San Diego Section records that propelled the Sultans to a school record  10-0 regular season, just three seasons after a 0-10 finish.
Busch passed for 44 touchdowns, shattering the mark of 36 by Castle Park's Gabe Lujan in 1996. Fields caught 21 touchdown passes to pass Fallbrook's Bill Dunckel, who caught 18 in 1986.
Santana was 11-0 before losing to Oceanside, 49-40, in the D-II semifinals.
FAREWELL, JIM!
Helix' Jim Arnaiz ended an outstanding, three-decade career as the Highlanders' coach, retiring with an 8-3 final season and maybe too soon.
Gordon Wood, the classy Arnaiz' successor, was greeted with a program that offered a full cupboard, headlined by up-and-coming sophomore Reggie Bush, to be joined  by Alex Smith.
Few could have known that Bush would provide more fireworks than Jason Van, who led the San Diego Section and averaged 208 yards rushing a game.
Van did his best to send Arnaiz (213-77-11) out with a victory, gaining 133 of his game 197 after the half as Helix battled back from a 28-7, third-quarter deficit to take a 31-28 lead, only to have Poway pull out a 35-31 playoff win.
OH, CANADA!
Coronado was such a good host that it played Churchill High of Calgary, Alberta, under Canadian football rules.
The Islanders gave up a point when they failed to return a punt out of their endzone, a play that is  called a rouge (roos-zh) in Canada. (Most American women know rouge as a reddish cream used for facial makeup).
Coronado defeated Churchill, 28-7, for a 2-1 record and best start since 1994.
HERE  COMES UNI
University was confronting a daunting challenge, not just moving from its Linda Vista location to a new and beautiful campus site in Del Mar.
The Dons lost their first five games and were outscored 124-50, but a 38-20 victory over Lincoln was their third in a row in the Western League and made them 4-5 overall.
Although Justin Green led the way with 156 yards in 33 carries, Carlos Quentin rushed 4 times for 24 yards, caught a 10-yard touchdown pass from Mike Kirsch, rushed for two others, and made two fourth-quarter tackles for loss.
Uni inconceivably won 8 in a row, climaxed by a 21-14 victory over Castle Park in the D-III championship.
Quentin, a future major league baseball slugger, stripped the ball from a Castle Park runner and returned the theft 75 yards for a touchdown and set up another TD with a 57-yard run.
CAN I HAVE THIS DANCE, AGAIN
Valley Center coach Rob Gilster and his Escondido counterpart Nick Ruscetta each needed a nonleague game to fill a 10-game schedule. Escondido and Valley Center are in the same league, the Valley.
How often have league teams played nonleague games against each other? It happened this season.  Valley Center won the unusual "home-and-home" double dip, winning the nonleague game at Escondido, 30-21, and repeating in league at home seven weeks later, 32-10.
ANOTHER BACK-TO-BACK
There have been others of the above instance, one really unusual being in  1946, when Hoover defeated visiting Pasadena, 14-0, in a nonleague game, then turned around the next week, went to Pasadena, and won a Coast League opener, 14-13.
SCOREBOARD
On the same night: Fallbrook set a school scoring record in a 63-11 win over Hilltop;  Poway bombed Orange Glen, 60-7, for another record, and Torrey Pines came within a point of its school record in a 56-14 win over Sweetwater.
Four-hundred miles north, Concord De La Salle defeated Santa Ana Mater Dei, 41-0, for its 91st consecutive win and 158th in the last 159 games.
The teams drew a crowd of 15,819 to a neutral site at University of Pacific in Stockton.
DEFENSE, ANYONE?
There wasn't any when Rancho Bernardo and West Hills chased each other in the  first round of the playoffs.
Coach Ron Hamamoto's Broncos scored a 71-48 victory over the host Wolf Pack, which trailed 36-14 at the half, then matched Rancho Bernardo almost point for point in the third and fourth quarters.
Rancho Bernardo did not set a single-game scoring playoff record by a San Diego County school.
That honor was reserved for San Diego, which defeated Montebello, 81-0, in a 1920 playoff. But the Broncos did set a record with a stunning 693 yards rushing and 784 yards total offense.
Hard to believe but Rancho Bernardo broke records that were only 10 weeks old.  Poway had rushed for 641 yards  and had 694 total in a 60-7 blowout of Orange Glen in Week 1.
David Rhodes rushed for 324 yards in 15 carries and scored 4 touchdowns for the Broncos.  Sam Campanella had 223 yards in 24 carries and four touchdowns, and Austin Willenbring added 116 in 10 carries and caught a touchdown pass.
RIPE AVOCADOS
Twelve of the 37 D-I scholarships awards to San Diego Section players went to Avocado League athletes.
Brandon Chillar was not a headliner, but the Carlsbad linebacker played four years at UCLA, then was drafted by the St. Louis Rams of the NFL.
Chillar played seven seasons, including the last three with Green Bay.  He was a member of the 2010 Packers team that won Super Bowl XLV, 31-25 over Pittsburgh.
KNIGHTS FALLS SHORT
Marian's David Aguiniga's 37-yard field goal on the last play of the game gave the Crusaders a 17-16 victory and ended The Bishop's magic season.
The Knights finished with a 12-1 record and No. 2 ranking by Cal-Hi Sports among the state's "smallest schools."  The Bishop's Tim Culver led the San Diego Section with 39 touchdowns and 234 points.
Aguiniga's kick avoided the onrushing Culver and Shane Keeher and atoned for earlier misses from 32 and 33 yards.
QUICK KICKS–Other top programs in the decade of 1990-99 were Helix (88-25-5), Castle Park (88-32-2), and Morse (88-35-3)…Interstate 15 near Fallbrook is known as the Avocado Freeway…avocado trees cover about 36,000 acres in the area between Escondido and Fallbrook…Mira Mesa center Chris Blevins on 240-pound running back Amon Johnson:  "He almost blocks for himself…you can't arm tackle him"…Amon and 6-foot, 7-inch, 245-pound  twin brother Teyo transferred to Mira Mesa from Everett, Washington…Mira Mesa won its first Eastern League championship since 1986…Morse (2-8) missed the playoffs for the first time since 1984…"He's the best pure quarterback I've ever coached and I've seen some pretty good ones," said Bonita Vista coach Carl Parrick of the Barons' 6 foot, 3-inch, 220-pound Tyler Arciaga…Long Beach Poly's 19-14 victory over Vista marked Poly's first game against a San  Diego Section team since it defeated visiting San Diego, 26-18, in 1960…Ron Hamamoto of Rancho Bernardo became the 21st County coach to win 100 games when the Broncos beat Temecula Valley, 26-14…Mission Bay coach Denny Pugh was 9-3 in 1989, took a 10-year-leave from the position and returned this season to post a 9-3 record…RB-LB David Mikaio became Mira Mesa's first four-year letterman.
Copyright secured by Digiprove © 2014