There wasn't just a millennium going on.
Wholesale league changes and the San Diego Section's annexation of schools in the Imperial Valley were creating a new landscape.
What started in 1980 with the addition of Calipatria, Holtville, and Imperial, was complete after Blythe Palo Verde,  El Centro Central, Brawley, Calexico, El Centro Southwest, and Calexico Vincent Memorial left the Southern Section.
Winterhaven San Pasqual also joined in 1980 and Salton City West Shores became a member in 1998, but neither of those schools was in for the long run.
DID VALLEY GET SHAFT?
Not everyone was happy.
Brian Hay wondered about his new associates. The El Centro Southwest coach was miffed when his 7-3 team was left out of the playoffs and three with losing records were bracketed into D-III.
"All of the San Diego-area team reps teamed up to keep us out," Hay told Steve Brand of The San Diego Union.  "There's something wrong when you're 7-3 and don't get into the playoffs.
"Only one of the Imperial Valley teams (Brawley) made it," Hay added.  "I'd like to see the top two teams from each league be included."
Hay was determined:  "We're looking for a game against a San Diego-area team next year, so this won't happen again."
CAN'T BEAT 'EM? JOIN 'EM
Hay didn't get that game for El Centro Southwest.
He  went one better.
The Southwest mentor headed west to San Diego to become head coach at Hilltop and became a fixture in the South Bay area, moving on to Mar Vista and then Sweetwater.
OTHERS UPSET, TOO
University was in the playoffs with a 3-7 record, but Rancho Bernardo (4-6-1) and San Diego (6-3-1) received the veritable rubber key.
"They say they want the best teams playing each other, so we play marquee teams and get punished because of our record," said Rancho Bernardo's Ron Hamamoto.  "We're one of 12 best teams in the County."
The Broncos defeated Vista, 6-3, and Rancho Buena Vista, 28-27.  Those teams received first-round byes in D-I.
67 YEARS FOR METRO
The Metropolitan Conference, which started as the eight-team Metropolitan League in 1933, servicing city and county schools, became two-headed, splitting into Mesa and South Bay circuits.
Sweetwater, San Diego Southwest, Montgomery, Chula Vista, and Bonita Vista came together as the Mesa League, all with larger enrollments than their South Bay brethren.
Marian (enrollment about 450), was by far the smaller entry among Mar Vista, Castle Park, Hilltop, and Eastlake, which made up the South Bay.
The Metro split once before, in 1960, when it divided into Northern and Southern divisions as the San Diego Section began play.
SEISMIC SHAKEUP
The Central League, born in 1980, went to the Great League in the Sky (to be resurrected in 2005) and its passing was felt throughout the city.
The Western League greeted Crawford, San Diego, and Madison from the deceased Central, and Hoover, which bid bon voyage to the Harbor. Western holdovers were La Jolla, Lincoln, and Kearny.
The Eastern League, which debuted with the Western when the City Prep League divided in 1959, also was involved.
University and St. Augustine moved from the Western to the Eastern.
The parochial schools joined Morse, Mira Mesa, Paddy Henry, Scripps Ranch and Point Loma.
TAKE THIS SPLIT AND SHOVE IT
Despite attempting to level the field based on enrollment, Mesa and South Bay teams still were scheduled to play interleague games.
There were unintended consequences.
Large school San Diego Southwest (Mesa) was run off the field, 66-0, by small-school-but-traditionally-formidable Castle Park (South Bay).
"We shouldn't have had to play this game," Southwest coach Joe Gonzalez fumed to writer Tom Shanahan.  "We're struggling.  We're overmatched.  We should be in a different league."
Gonzalez added, "Give us a couple years to turn this around, but don't force us to play strong competition we're not ready to play."
In a 0-10 season the loss to Castle Park was not the most humilating.  Mesa League rival Sweetwater defeated the Raiders, 72-0.
AVOCADO-PALOMAR-VALLEY SHUTTLE
The North County Conference also was shuffling. Torrey Pines moved from the Avocado League to the Palomar and Oceanside went from the Avocado to the Valley.
This made for three, more symmetrical alignments–five-team Avocado and six-team Palomar and Valley.
BAPTISM BY FIRE
Chris Hauser's first game as head coach at Vista was against the most storied program in California.
It was a formidable assignment, but the fiery Hauser had been preparing for the moment.
Hauser was a wide receiver and defensive back in the early 1980s for legendary Vista coach Dick Haines.
After college Hauser returned to the school as a classroom teacher, was married to a Vista graduate, coached the Panthers junior varsity from 1990-93, and was varsity defensive coordinator from 1994-99.
The Panthers dropped a 20-14 decision to Long Beach Poly, ranked second in California by Cal-Hi Sports and third in the country by USA Today.
Hershel Dennis' 65-yard touchdown run with 5:07 remaining clinched the victory for the visitors.
"We talked about spilling our guts and our guys spilled their guts tonight," Hauser said to writer Mick McGrane.  "It's neat to see them leave with a different taste in their mouth.
"They came in here pretty arrogant, thinking they were going to mow us down.  It's great it was a close game, but I want to win."
BUCS' BLOCK
Mission Bay's 13-0 season included a stiff regular-season test when the Buccaneers went to 9-0 with a 10-7 victory over Lincoln (8-1).
David Abbott, a 6-foot, 245-pound lineman, blocked a 27-yard field goal attempt by Lincoln's Noe Gonzalez  with 5.2 seconds left.
BUSING
Although Shannon Nowden owned a car, most of Mission Bay's football players were products of optional school choices and were bused in.
Coach Dennis Pugh said that probably 75 per cent of his team came from areas outside the Bucs' natural enrollment boundaries.
Nowden was from the Lincoln district.  Others included JaJa Riley and Scott White (Morse), Marcus Smith and David Abbott (Hoover),  and Jared Bray and Adam Riccardulli (Clairemont).
"When we start in the fall it's like  we have a bunch of kids moving in from out of state," Pugh told Tom Shanahan of The San Diego Union. "These kids go through a lot to make it work.  They spend more than two hours a day on the bus."
CHAMPIONSHIP PLUCK
Those transfers played a part in the biggest play of Mission Bay's season.  Trailing Lincoln, 13-7, Marcus Smith pick-pocketed Lincoln quarterback Jason Swanson and raced 96 yards for a touchdown in the Buccaneers' 27-13 win in the D-III final.
"First I went for the strip and then I went for the end zone," said Smith, who heard "dangerous" footsteps chasing him.  Then Smith took advantage of something not usually available in high school games, sccording to Steve Brand.
"I looked up at the Jumbotron (in Qualcomm Stadium) and when I saw Shannon (Nowden) take out two blockers I knew I had a touchdown," said Smith.
PRECURSOR
North County big shot Rancho Buena Vista did not play a team from any of the Grossmont leagues  until it tested the waters in 1998, when the Broncos dismissed Granite Hills, 20-0, and West Hills, 61-28.
Craig Bell's No. 4-ranked Vistans ratcheted it up this season, visiting No. 6 Helix.
Sophomore Reggie Bush had 157 yards in 14 carries and ran 77 yards for a touchdown that gave Helix a 34-22 lead in the fourth quarter.
The Highlanders held on for a 34-29 victory, but their fifth straight victory without loss was just the beginning.
With Bush and junior quarterback Alex Smith setting the pace, Helix rolled to a 13-0 record and beat two more North County clubs in the playoffs, Oceanside, 28-10, in the semifinals and San Pasqual in the II championship, 24-14.
Bush rushed for 1,034 yards and scored 11 touchdowns and Smith passed for 1,592 yards and 11 touchdowns.
Bush's emerging greatness was evident in another game when he ran 80 yards for the clinching touchdown with five minutes remaining  in a 22-19 triumph over Monte Vista, which had taken a 16-0 halftime lead.
The pair of future No. 1 NFL choices made for an outstanding coaching bow for Gordon Wood, who inherited a full cupboard when Wood took over for the retiring Jim Arnaiz.
IGNORED IN PRESEASON
For awhile at least Helix was a secret, not even in preseason state Top 20.  That was not the case with Fallbrook.
After first-year coach Randy Blankenship revived the Warriors with a 7-4-1 season in 1999, Fallbrook was ranked 11th and ready to make its first serious run since Tom Pack's 1986 team was 11-2-1 and upset Vista, 28-14, in the AAA championship.
From 1987-98 the Warriors were 45-78-2, including an 11-49 drought since 1993.
Fallbrook overcame early defeats of 28-21 at Santa Ana Mater Dei and 42-23 at Anaheim Esperanza and then ran the table to an 11-2 record that included a 50-12 victory over Carlsbad for the D-I title.
Blankenship left after the season and was replaced by Dennis Houlihan.
LIKE FATHER, LIKE SON
Willie Buchanon was an all-pro cornerback with the Green Bay Packers and completed an outstanding, 11-season career with the San Diego Chargers, but Buchanon, in his prime, would have had trouble covering his 6-foot, 5-inch son.
William Buchanan caught 84 passes in 13 games, for a 19.3-yard average and 16 touchdowns for  Oceanside this season and marked the third generation of Buchanons at the school.
Willie stood out in football and track in 1967-68 and William's grandmother was the first Africa-American to graduate from the school in 1947.
The family lineage did not stop there.  William's grand-uncle, C.R. Roberts, was the legendary star halfback on the Pirates' 1951-53 squads. Roberts scored 61 touchdowns in his final two seasons.
RANCH COACH CALLS IT A CAREER
Craig Bell, who posted a record of 106-62-1 at Rancho Buena Vista and won two section championships in 14 years, retired at the end of the season.
Bell, 57, began the RBV program when the school opened in 1987.  He also was head coach at Burbank Burroughs and was 24-33-2 in six seasons at San Dieguito.
Bell told Mick McGrane of The San Diego Union that his decision was made during a summer vacation trip to Wyoming with his wife.
"I was able to relax, my blood pressure was down, my hair wasn't falling out, and I was able to eat something other than burritos and French fries, which is about all you ever eat during football season," said Bell.
Bell won titles in 1988 and 1989 in a  sometimes contentious tenure that was  marked by legal proceedings and a law suit against the Vista School Board.
11TH HOUR REPRIEVE

Actually it was eight hours before kickoff when Horizon's 11-game forfeiture mandated by San Diego Section commissioner Jan Jessop was overturned by an appeals committee.
Horizon responded by defeating The Bishop's, 33-20, for the Division IV championship.
The Panthers were penalized for using an ineligible player.  There also was a question of another player's eligibility.
The committee consisted of John  Collins, Poway district associate commissioner; Mark Oschner, Rancho Bernardo athletic director, and Kamran Azimzadeh, Lakeside district deputy superintendent.
"It was a good decision," said Bob Ottilie, one of two lawyers working on Horizon's behalf.  "It was a good decision, a well-reasoned decision.  These kids will not suffer because of the administration."
The Horizon player was declared ineligible for violating the so-called "eight-semester rule." Students enrolled in school for eight semesters must receive a waiver from the San Diego Section to be eligibile for sports in their fifth year.
Horizon did not seek a waiver, said Jessop.
EXPANSION BY MILES
Granite Hills in El Cajon was the easternmost school when the section began in 1960, as Mountain Empire in Campo remained in the Southern Section for a few years.
After the first immigration of Imperial Valley schools, the  longest distances from San Diego were to Holtville (124 miles) and Imperial (133 miles).
Blythe Palo Verde, which had to make long trips in the Southern Section, was essentially in the same travel situation when it became a San Diego Section member this year.
The 104 miles from Imperial Valley League rival El Centro Central had not changed, but a Palo Verde game in San Diego would be 215 miles distant, at least three and a half hours.
SIGN LANGUAGE
El Camino's 17th consecutive victory was fueled in part by a sign that greeted the Wildcats' bus when it entered the Vista campus. The sign read, "The Streak Ends Here".
"We saw that when we drove in," said El Camino quarterback Demetrious Spates.  "That gave us a tremendous amount of motivation.  You may not like us, but don't disrespect us."
It was Vista that got the message.
El Camino rolled, 56-20, as Spates passed for two touchdowns to Antwaine Spann and rushed nine times for 168 yards and three scores.
A 42-25 win over Oceanside the next week was El Camino's 18th in a row over two seasons and moved the Wildcats past Lincoln (1978-80) for the third longest winning streak in the County.
CARLSBAD CRUSH
El Camino's streak came to a quick and decisive end. Carlsbad's Eddie Sullivan scored on a 99-yard pass play and 97-yard kickoff return, propelling the Lancers to a 35-17 victory and a pungent observation by Wildcats coach Herb Meyer.
"We didn't practice well all week and I coached us right into the toilet," Meyer told Tom Shanahan of the Union.
"We're 0-1 in the Avocado League," said Meyer.  "That's all that counts.  The streak and all that other stuff are for sportswriters to write about."
El Camino finished with a 10-3 record, nosed out by Fallbrook, 27-24,  in the playoff semifinals.
ISLANDERS MAKE WAVES
Coronado won 10 games in a row for the most successful season in the school's 86-season history.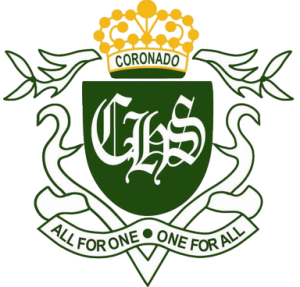 The Islanders won their first seven in an 8-1 campaign in 1929 and won eight in a row in 1940, after opening the season with a 0-0 tie against an alumni squad.
Islanders coach Bud Mayfield also was part of the chorus complaining about playoff seedings.
Coronado's reward was a seventh seed in D-III, which Mayfield described as "a kick in the teeth".
After a bye, the Islanders were eliminated, 34-21, by Lincoln in the quarterfinals.
STRANGE TWIN BILL
It looked like a misprint: Desert Hot Springs versus Monarch High of Lewisville, Colorado…at El Camino?
The off-beat scheduling called for the two schools to be on the undercard of an opening week doubleheader featuring host  El Camino and Whitehall, Pennsylvania.
Whitehall school board bosses moved in after the game was set and declared that the Zephyrs couldn't play a game out of state for the second consecutive season.
El Camino reconnoitered and signed to play at Rancho Bernardo.  The Palm Springs-area school and Monarch went through with their contest and played at El Camino.
AT LONG LAST
Ramona's Jason Bash batted down a last-second pass in the end zone to preserve a 20-17 victory over Poway. Poway had been 11-0 against the Bulldogs from when it opened in 1961.
FOR WHOM BELL TOLLS
The bronze bell trophy was in the offing when San Diego Southwest had a first down on Mar Vista's two-yard line with 50 seconds remaining. The Mariners stiffened and held on to win, 20-13, and reclaim the bell.
The bauble  had sat on the desk of Southwest  coach Joe Gonzales since the rivalry was suspended after a 32-6 Southwest win in 1993. Mar Vista moved to the Harbor League in 1994.
The teams had played for the bell since  Southwest was introduced in 1976.
FAMILY FEUD
Crawford more or less ended a 14-game losing streak when it tied Kearny, 14-14, in a matchup of father (Kearny coach Skip Coons)  versus son (Crawford coach Lou Coons).
We just ran out of time.  Give us another minute and we win," said Lou.
QUICK KICKS–West Hills quarterback Troy Burner was on fire, bettering the section record by completing 88.8 per cent of his passes (32 of 36) for 346 yards and five touchdowns, including the 35-34 winner with 23 seconds left against Granite Hills…Helix gained 578 yards and averaged 9.6 yards a play in a 57-18 win over West Hills…it was the Highlanders' most points since a 57-7 win over  Mount  Miguel in 1993…the Helix record came in a 68-0 victory over Santana in 1966…Valhalla's 24-14 victory over Granite Hills was the Norsemen's first on opening night since 1990 and marked the first time since 1992 they had scored more than seven points in an opener…"Field Turf", a modern, more convenient and safer version of  the original Astroturf, was installed at La Jolla and Grossmont College…La Jolla was the first high  school in Southern California south of Ventura to use the rubbery stuff…awful loss for San  Pasqual:  Rancho Buena Vista's Justin Nelson sneaked 1 yard for a touchdown with 16 seconds left in the game, then scrambled two yards for a two-point conversion and 22-21 defeat for Eagles…Carlsbad coach Bob McAllister opted to play a rare day game at Hoover and told his squad that the sunshine contest would be a prelude to Saturday afternoon games when they would be in college…the Lancers won, 21-0…Sean Sovacool, Fallbrook's standout linebacker, went on to become head coach at La Costa Canyon….
Copyright secured by Digiprove © 2014