Call it the case of "The Missing First Downs".
La Jolla and Calexico engaged in a Southern California Lower Division playoff at La Jolla.
The game ended in a 6-6 tie, but The San Diego Union reported the next day that the Vikings "won"  7-6 and advanced to a championship encounter.
As Union writer Mitch Angus noted, "An extra point tossed in for an edge in first downs made gave La Jolla High school a 7-6 victory over an invading Calexico High eleven in a bitter minor league football playoff on the Jewel City gridiron."
"The Vikings scored 13 first downs to nine for the visitors to win the game on a CIF ruling," wrote Angus.
Headlines the next few days tell a story.
Calexico did not protest but asked CIF commissioner Seth Van Patten for clarification of the rule pertaining to tied playoff games.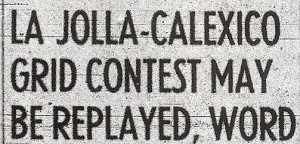 Van Patten sat up.
According to a Mr. Lawson, the principal at Calexico, the commissioner said that because no official record of first downs was kept  the game either would be replayed in Calexico or go down as a tie.
(Van Patten had ordered replays before.  See Calexico vs. Grossmont, 1927).
The Union conducted a review and reported that in an unofficial count of five newspapermen and "other interested parties", La Jolla was given the edge in four first down tabulations and one was even.
La Jolla principal Clarence Johnson was out of town and could not be reached for comment.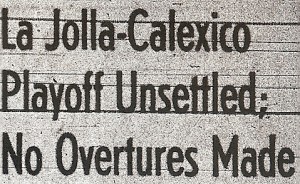 Days later the matter still was unsettled as thoughts turned to Christmas and basketball.
The game wouldn't be replayed.
According to the Union, the head linesman assigned to the game was responsible and failed to keep a record of first downs.
The official in question was Joe Beerkle, the head coach at San Diego High.
Area coaches manned the other officiating positions. Grossmont's Jack Mashin was referee, Morris Gross of San Diego State was back judge, and Sweetwater's Cletis (Biff) Gardner was umpire.
The CIF Southern Section record book lists no lower division champion for 1938.
METROPOLITAN PLAYOFF OUT
There was talk of a postseason, Thanksgiving Day game for the Metro League title after Point Loma and La Jolla tied for first with 5-1 records (La Jolla beat Point Loma, 22-7, and Coronado upset La Jolla, 6-0).
A decision not to play was made after principals from each school met with coaches.
Point Loma honcho Clarence Swenson stated, "We felt it might hinder the chances of the Metropolitan League entry in the CIF minor league playoff."
Point Loma had won league titles in 1936 and 1937 but had declined invitations to participate in the postseason.
La Jolla later won a coin flip with the Pointers to determine the league's playoff representative against Calexico.
FIVE TROJANS FROM SAN DIEGO
USC coach Howard Jones mined the recruiting fields in San Diego with great success during his tenure as the "Head Man" at USC from 1926-40.
Five players  from San Diego were on Jones's 1938 squad that upset undefeated Notre Dame, 13-0, then defeated a Duke team that had not been scored on, 9-0, in the 1939 Rose Bowl.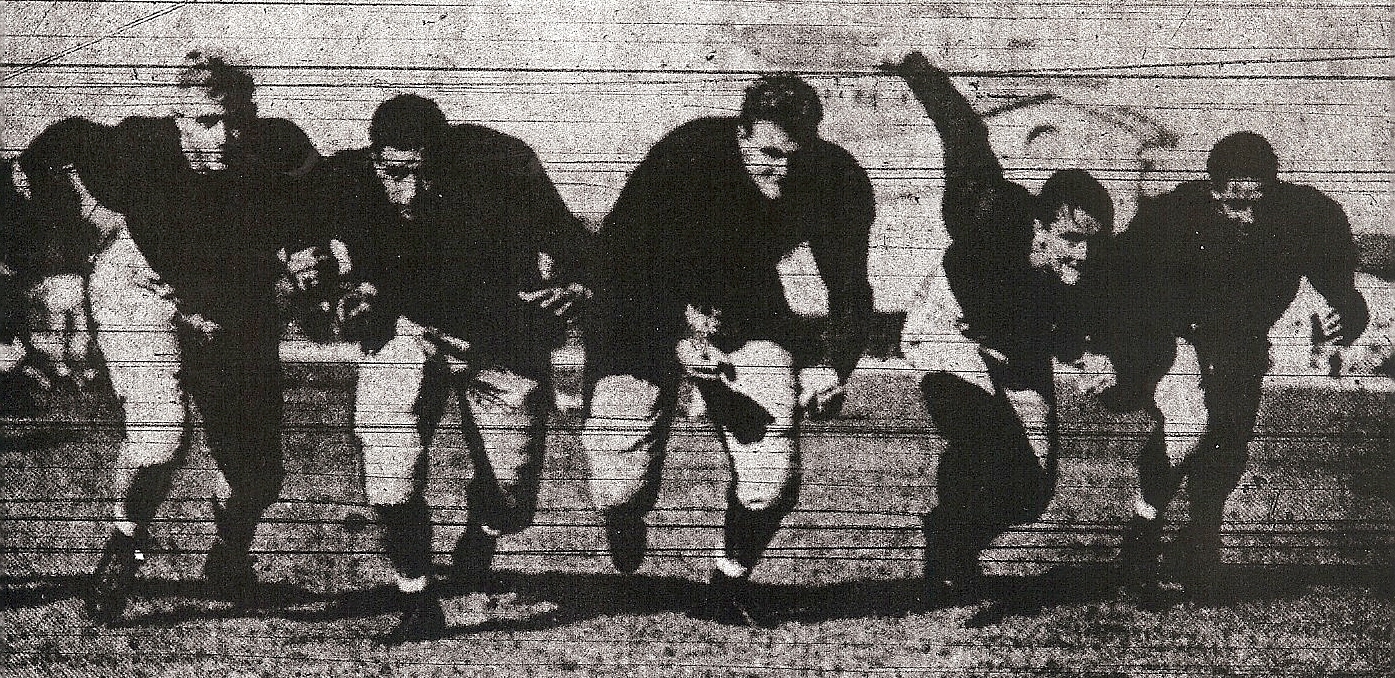 From left:  blocking halfback Joe Shell (Hoover), end Sal Mena (San Diego), guard Ben Sohn (San Diego), fullback Roy Engle (Hoover), and quarterback Oliver Day (San Diego).
WHAT DO YOU REALLY MEAN?
Coach-speak could be ponderous at best, or did sportswriters of the day just report quotes the way they wanted to hear them?
La Jolla boss Marvin Clark was quoted thusly when Clark spoke of the team's prospects after 40 candidates turned out:
"Since we have no outstanding threat—no player capable of breaking away for touchdowns with enough frequency to be considered a menacing ball packer—we must work extra hard for our touchdowns, which means that we are not apt to be more than a good defensive (sic) team.
"The club is too small to be overly powerful, for our players will not average more than 150 pounds, and that means we will have to content ourselves with making trouble for the big fellows.
"We hope to have a good team but our prospects are not brilliant."
La Jolla, 3-5 in 1937, improved to 8-1-1.
TOO MUCH HYPE
Coach Joe Beerkle moved from Point Loma to San Diego and one of his standout Pointers, halfback Paul (Red) Isom, followed Beerkle, accompanied by much hoopla.
The coach complimented Isom, sort of.
"They're trying to put Red on the spot," said Beerkle.  "He's no flashy, triple threat man. He's good, however."
Isom played through  injuries and led the Cavemen with five touchdowns and 30 points.
Red guided the Cavers 70 yards to the winning touchdown in the final minutes  as San Diego defeated Phoenix Union, 19-14, on the sixth annual Homecoming weekend. The school honored graduates from the class of 1891.
The Cavers had met the Arizona squad 12 times since 1923 but the series was suspended because of travel concerns and wouldn't be renewed until 1946.
FAREWELL, MOORS!
Alhambra won the Coast League championship after the Cavers missed a point after touchdown in a 6-6 tie, but the Moors were ending an affiliation with the Coast that began in 1925.
Games on the road with San Diego and Hoover usually were two-day trips, sometimes three.
Ground breaking for Mark Keppel High meant a new school would open on the east side of the city, cutting into the enrollment of the largest school in Southern California.
Alhambra would join the Foothill League, made up of mostly neighboring San Gabriel Valley schools, and the Coast League would be reduced to three teams, San Diego, Long Beach Poly, and San Diego Hoover.
3 LEAGUES MEET                                                                                     
A meeting in Long Beach among the 16 Bay League, Coast and Foothill schools resulted in a realignment proposal that was adopted at a meeting at South Pasadena High in early 1939.
Representatives, including San Diego High vice principal Edward Taylor,  agreed to guarantee five league games in 1939-40 for the six Foothill, seven Bay, and three Coast League squads in football, basketball and baseball.
San Diego would play Hoover, Poly, Whittier of the Foothill League, and Compton and Inglewood of the Bay.
The Bay League's Long Beach Wilson and the Foothill League's Alhambra and Glendale Hoover were scheduled to be San Diego Hoover opponents.
The intersectional games would count in the teams' league standings and hopefully revitalize the struggling Coast League.
NO PLAYOFFS URGED
Rivalries, partisanship and potential charges of bias were noted by commissioner Seth Van Patten when opponents were to be selected.
Van Patten named an executive committee that was charged with drawing up schedules.  Members of the select group did not have any connection to the schools involved.
Another recommendation that was not passed at the subsequent meeting called for the elimination of all playoffs.  The postseason apparently was not profitable and therefore not popular, but they would continue.
SIGNS OF THE TIMES
Seventeen bomber planes, from Navy Patrol Squadron 4, flying in formation all night, set a record for air time from San Diego to Honolulu on Sept. 7.
The planes covered the 2,150 miles in 17 hours, 17 minutes.
The trip, described politely as a "routine transfer of patrol bombers," was made at an average speed of 145 knots, according to officials.  Converted, 145 knots was equal to 167 miles per hour.
CLIMATE CHANGE?
The San Diego temperature of 94 degrees on Oct. 2 broke the record of 88 set in 1893. Six weeks later, on Nov. 12, the temperature dropped to 18 in Descanso 25 in El Cajon and 30 in Escondido.
Tomatoes suffered in El Cajon and water froze on Palomar Mountain.
WHO'S GOING TO PAY?
The San Diego State Aztecs attended the USC-Notre Dame game in Los Angeles and then spent the night in a downtown L.A. hotel.
The next morning, after a team breakfast, graduate manager Al Morrison prepared to pay.
Morrison discovered that his wallet had been emptied of its contents. A further check revealed that currency had been removed from the billfolds of head coach Leo Calland and athletic director Morris Gross.
One other hotel guest reported that he, too, had been robbed. The Aztecs made good on the breakfast tab after returning home.
MR. TOUCHDOWN
Bobby Cifers, a triple-threat halfback from Kingsport, Tennessee, set a national high school record with 233 points in 12 games. Cifers scored 34 touchdowns and 29 PAT to break the mark of 211 set by Chicago prep Bill DeCorrevont in 1937.
WHO ARE THESE GUYS?
They were  mostly former San Diego High players  and they represented the Golden Hill Gophers, who defeated the Hilltoppers' junior varsity, 12-0.
COOVER OF HOOVER
Chuck Coover was a 140-pound, second-team all-Coast League end and one of many future coaches mentored by Hoover's John Perry.
Coover coached many years in San Diego, taking on almost impossible tasks at football-barren St. Augustine (1947), Mar Vista (1952-53), and Mission Bay (1959-61), before moving to Morse.
The school South of Encanto in the city's Skyline District opened in 1962 and Coover built the program from the ground up.  He retired after a 9-2 season in 1968.
ADVERTISING FOR PLAYERS
Joe Beerkle was desperate for backfield help and placed a faux help-wanted ad in the morning newspaper.
"Any halfback, quarterback, or fullback not regularly employed at present kindly report to the San Diego High practice field at 2:30 this afternoon for a tryout."
Beerkle was elated when Dempsey Holder, a 180-pound halfback, transferred in from a school in the Phoenix area in Arizona.
Like some Hollywood marriages, the relationship was brief and ended unhappily for Beerkle.
Holder, who stepped in at right halfback against Long Beach Poly, was gone three weeks later, moving back to Arizona.
EVENING TO REMEMBER
The first night game at Coronado turned in a frenetic last quarter.
Coronado scored two touchdowns in the last five minutes to overcome St. Augustine, 13-6, after the Saints took a fourth-quarter lead on Les Duffy's 100-yard punt return.
MOVIES
Film study still was in its development stage, but San Diego coach Joe Beerkle took up most of one practice say by showing the squad "slow motion pictures" of the California-UCLA game from the previous week.
Beerkle hoped the film would aid Cavers backs blocking for Red Isom.
HONORS
Guards Bill Seixas of San Diego (first team) and Dave Cobb of Point Loma (third team), and halfback Al Walden of La Jolla (fourth team), earned all-Southern California honors.
QUICK KICKS
A fight almost started at midfield  over possession of the game ball after  San Diego defeated Hoover, 14-0, before 16,000 in City Stadium…the ball finally was delivered to San Diego coach Joe Beerkle…San Dieguito spoiled dedication of Escondido's new field, edging the Cougars, 7-6,  in the season opener for both teams…Fallbrook, in its third season of football, welcomed a turf playing field; so did San Dieguito…Ramona won its inaugural game, 7-0 over Fallbrook…Metropolitan League rivals Oceanside and Escondido played a Thanksgiving Day nonleague game with proceeds setting up a fund for injured players…Escondido made it two in a row over the Pirates, winning, 20-0…Hoover and Tucson drew 5,000 spectators in the  Arizona city the day after Thanksgiving…the Badgers beat the visitors, 14-6…Point Loma's ace blocking back and defensive star Jack Farrell turned 20 in the middle of the season and had to leave the team, having exceeded the CIF age limit…
Copyright secured by Digiprove © 2014-2015