The Star Spangled Banner became our national anthem, Al Capone was convicted of tax evasion, the Empire State Building rose in Manhattan, the small community of Las Vegas voted to legalize gambling.
And 8 million Americans, at least 16 per cent of the work force, were on the street, out of work, and soon to be joined by millions of others.
That's the way it was in 1931.
Football in San Diego survived but was not untouched by the deepening Great Depression.
San Diego High was preparing for the regular-season finale against Long Beach Poly, when coach Hobbs Adams was told to extend the season and have his gridders help in "the nationwide call to charity."
City Schools superintendent Walter Hepner announced at a press conference that the Cavemen would play a postseason game against the Riverside Sherman Indian Institute.
There were approximately 30,000 elementary, junior, and senior high students in the city.  Many of their parents were affected by the mounting despair of a failing economy and vanishing jobs.
Proceeds from the game would be apportioned to the Parent-Teachers' Association for student nutrition support and to the City Schools' Student Aid department, said Hepner.
The superintendent pointed out that students in elementary school were being found to be undernourished as their parents struggled to make ends meet and put food on the table.
Student Aid hopefully would help older boys and girls remain in school. Many were being forced to go out in search of work.
Also attending the event were Bud Kearns, superintendent of city playgrounds who would be the game manager, and Adams and his boss, John Aseltine, San Diego High principal.
About 2,500 persons (Kearns was quoted as predicting a turnout of 8,000) attended the Cavemen's 24-0 victory over the Sherman Institute.
City Schools' bands and ROTC units provided halftime entertainment and more than $1,200 was raised, a small but useful sum in a period of growing desperation and unemployment.
ADAMS MUST HAVE KNOWN
Hobbs Adams hoped he had found a "new Cotton Warburton" in Morris (Mushy) Pollock, a diminutive junior halfback who weighed 132 pounds and made the all-Southern California second team.
Pollock, who lived in Coronado but had come to the Hilltoppers from Memorial Junior High, lived up to expectations but Adams, impatient if not impetuous, often was on the warpath.
The coach benched 3 regulars after a 32-13 victory over San Bernardino and jerked three more regulars following a 25-7 win over Redondo Beach Redondo.
Headline  in The San Diego Sun:  "Adams Declares Hillmen Asleep on Feet".
The coach was especially peevish when the Cavemen dropped an 18-14 Coast League decision at Alhambra on Armistice Day.  San Diego led, 14-0, at the end of three quarters.
Adams never was totally comfortable with his 7-2-1 team, but the season was a success after the Hillers had laid the wood to Long Beach Poly, 26-0.
CORONADO CARRIES BANNER
Amos Schaefer's Coronado Islanders tied with Grossmont and Escondido for the Southern League championship and were the league's nominee for the playoffs for the second consecutive year.
The teams had tied for first in 1930 and Coronado was chosen after a meeting of coaches Schaefer, Harry Wexler of Escondido, and Jack Mashin of Grossmont.
Escondido principal Martin Perry made the announcement at a 1931-season-ending meeting of the San Diego County Football Officials' Association.
Perry said the decision came after a three-way telephone conference involving Perry, Coronado principal J. Leslie Cutler, and Grossmont honcho Carl Birdsall.
Perry declined to address the question of whether there was a vote, but it was apparent the schools would ignore, for the second year in a row, the Southern Section rule that championship ties require playoffs.
"There will be no playoff to determine the Southern League's representative," said Perry.
The Islanders stopped Hoover, 18-9, in a first-round game at City Stadium, but were shut out at El Centro Central, 14-0, the next week.
Coronado's chances of victory in the Imperial Valley were doomed when star quarterback Jimmy Blaisdell was announced out of the game minutes before kickoff. Press reports did not give a reason, but Blaisdell had played hurt in several games.
COUGARS' RAZZLE-DAZZLE
Escondido hid end Red Broerman on the sideline before Ed Goddard completed a long pass to set up a touchdown and Goddard scored on a hidden ball play as the Cougars defeated visiting Norwalk Excelsior, 27-13.
Goddard was the County's leading scorer with 94 points (Blaisdell was runner-up with 79) and  made the all-Southern California third team.
Escondido finished the season with a 10-1 record, best in school history.  The 10 victories would be equaled by Cougars teams in 1969, 1978, and 2008.
NEW KID ON BLOCK  
Mountain Empire High in Campo opened in 1925 but took its first, hesitant step in football.
The Emperors, as they were known, did not find the game to their liking.
Coronado pulled its regulars with five minutes left in the first quarter and still handed principal-coach James Martin's team a 74-0 loss.
The Emperors played their schedule on the road, forfeited twice, and finished with a 0-5 record in the Southern Prep League.
A game with the Oceanside varsity was not played.  Instead, the Emperors dropped a 47-6 decision to a team representing the Oceanside varsity…the Oceanside B's.
Future football at Mountain Empire would be on a Class B or junior varsity level.
IT'S SANTA ANA'S TIME
After San Diego struggled in a 13-2 victory over Pasadena, Eddie West, writer for the Santa Ana Register, challenged the hometown Saints.
"Coach Oliver's team has the best chance since 1927 of waxing the Hilltoppers as Santa Ana has so longed yearned to wax 'em," wrote West.
"The Saints now know they are meeting no 'wonder team,'" said West, "and know, too, they have a better-than-even chance of winning—if they don't choke up as other Santa Ana teams have against San Diego."
Gerald (Tex) Oliver, who coached Hilltoppers B teams in the mid-'twenties, guided the Saints to a 14-2 victory, their first over San Diego since 1921.
Santa Ana went to defeat Covina, 34-0, for the Southern Section title and interrupted a Coast League run in which San Diego or Long Beach Poly usually finished on top.
Poly had won five championships and San Diego two since the league, in its present alignment, was formed in 1923.
TRANSFERS KEY
After becoming one of the top players in the Imperial Valley at El Centro Central in 1930, Dave Wynne moved to San Diego and was an offensive standout first at quarterback, then at halfback, when Hobbs Adams shifted junior Mushy Pollock to quarterback.
Wynn scored 8 touchdowns and drop-kicked 12 point after touchdowns.  He was the third leading scorer in the County with 60 points.
Quarterback George Albin rushed for six touchdowns as Hoover qualified for the playoffs in  its second season, a year after Albin played at St. Augustine.
SIGNS OF THE TIME 
Federal "dry" officers raided a ranch two miles north of Escondido and arrested Tony Norris, 40, for the second time in two months for violating the national prohibition act.
Norris was in County jail, charged with being the "maintainer" of 5,000 gallons of wine and brandy.
WILD TOSSES
Mary Elizabeth Shourds sued for divorce from Richard Shourds.
Mrs. Shourds told a San Diego Superior Court magistrate that her husband threw hair brushes at her during spousal tiffs.
RACIST TO SPEAK
From The San Diego Union of Oct. 20, 1931: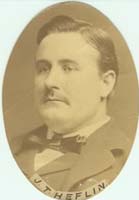 "As elected guardians of a public-owned auditorium, members of the board of education last night spent 45 disturbed minutes discussing ethics, morals, policies of the board and religions before they decided to not cancel a contract which the San Diego citizens' committee has made for the Russ auditorium, where in two weeks former Senator James T. Heflin of Alabama will speak."
A redneck, white supremacist, Heflin was known as "Cotton Tom."
BEACH TRAGEDY
Oceanside High football player Henry Langford, 17,  was killed when the car in which he was riding overturned on the beach in the North County community.
Elwood Phillips, the driver, was uninjured.  The accident occurred when the front wheels of the vehicle locked in the sand.
SOUTHWEST BRAGGING RIGHTS
Phoenix Union, arrived a day early on the Arizona and California Railway for its intersectional tussle with San Diego.
Billboarded as the "Southwestern Champions of 1930" after beating teams from California, Arizona, New Mexico, and Texas, the Coyotes and Hilltoppers were allowed to play the only intersectional game of the season in Southern California.
In time the Southern Section would pass a rule prohibiting inter-state games but okayed this year's contest because it was the second in a series of home-and-home games.
Phoenix defeated San Diego, 22-20, in 1930 in the Arizona city.
The Hilltoppers had 16 first downs to 1 and defeated the Coyotes, 9-6, after trailing, 6-0, at the half.
QUICK KICKS
Hoover's Burnell Paddock kicked a 40-yard field goal in an 18-9, playoff loss to Coronado…Paddock"s placement from the Islanders' 30-yard line is believed to be the second longest in County history behind a 44-yard dropkick field goal by San Diego's Bill Garber in a 1916 playoff versus Ontario Chaffey…City League teams were limited by rule to a total of seven regular-season games, including  three league games…Coronado's opening game victory over Hoover was not all because of Jimmy Blaisdell, who scored both touchdowns in the 12-0 win…Kent Bush's 45-yard punting average kept the favored Cardinals backing up…businesses and stores closed for the afternoon when Escondido and Oceanside met in their annual North County battle at Oceanside…San Diego's varsity players were invited to the Spreckels theater to see "The Spirit of Notre Dame" motion picture, which was a tribute to the late coach, Knute Rockne, killed in a plane crash in Kansas earlier in the year…Hobbs Adams took 20 Hilltoppers to the USC-Stanford game on Saturday, returned home, and then traveled to Alhambra for a Tuesday Armistice Day game…John Perry of Hoover chartered a bus for his Hoover team's trip to Yuma, Arizona, but some players traveled in private cars…after defeating the Criminals, 6-0, the Cardinals' were guests at a postgame dance and returned on Sunday to San Diego…El Monte defeated Oceanside, 34-0, for the Southern California Class B title…Russ Saunders, a star on San Diego's 1925-26 teams and all-America at USC, played for the champion Green Bay Packers this season and was the second San Diego athlete in the NFL.. Brick Muller played and coached for the Los Angeles Buccaneers in 1925-26, but the Buccaneers were based in Chicago, did not play a game in Los Angeles, and all of their contests were on the road….
Copyright secured by Digiprove © 2015-2016